Back in January 2014, at the National Association of Music Merchants (NAMM) conference, guitarists everywhere were falling all over themselves trying to get information about the latest effects pedal releases from their favorite manufacturers. NAMM never disappoints and the sneak peeks were a plenty when it came to stomp boxes. Lots of manufacturers unveiled new effects and among them was T-Rex, unveiling four new pedals, the Replay Box delay, the Vulture distortion, the Creamer reverb, and the SoulMate multi-effect board.
As if that wasn't enough, T-Rex recently announced that they are putting six new pedals into rotation in 2014. Never one to shy away from a challenge, it looks like the Danish manufacturer is hitting all the high notes with drives, boost, wahs, tuners and more. With the 4 they released at the beginning of the year this makes 10 new pedals to get on top of.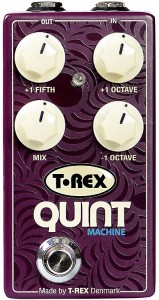 The new pedals are the Diva Drive – based on the JRC4558 chip that delivers a punchy gain, the Karma Boost – a boost based on the T-Rex buffer amplifier that works to give depth to overdriven sounds, the Neo Comp – created to give studio quality sound for those live occasions, the Quint Machine – a four-tone generator with octave and 5th control, the Shafter Wah – a Triple-voiced analog wah, and the Tunemaster, a chromatic tuner that can flip between buffered and true bypass.
So come on over to Pedal Finder and check out the T-Rex Manufacturers page and read and leave reviews on the over 50 pedals already logged in to the site.