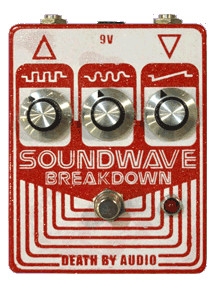 Many folks who don't live in or around New York know the name Death by Audio as the pedal effects company based out of Brooklyn. And indeed they are. Coming up with such pedals as the Apocalypse, the Interstellar Overdriver and the Soundwave Breakdown just to name a few. However, Death by Audio is also the name of joint rock club/ musicians work space that Death by Audio – the pedal manufacturer – occupies with others. The name of the effects company came first.
Turns out this all ages rock venue and workspace is shutting down and it seems like kind of a big deal to those in the area. Over the years the club welcomed as many as 1,000 bands a year including the, "Dirty Projectors, Thurston Moore, Thee Oh Sees, Zach Hill, Paint It Black, Future Islands, the Immaculates and Dan Deacon" according to an online New York Times article. With that in mind, I'm sure the closing of this space IS a big deal.
All ages' venues are rare in any city, which is a shame because they are a much needed component of any rock scene if you want your town to promote and encourage not only good music, but a positive social atmosphere for those 'not of age.' When you're too young to hang out at clubs, you don't have a lot of options when it comes to Friday and Saturday nights. An all ages' venue isn't just a place for budding bands to flesh out their stage presence or for well-known bands to connect to their underage admirers. To many, these places quickly become second homes and the friendships and memories gained last a lifetime.
The bright side is that all ages' venues like the Death by Audio space are usually transient by nature and a new all ages club will most likely sprout up somewhere to take its place, filling the void that's been left. Another bright side: The folks making Death by Audio effects have no intention of quitting what they do so well. Here's to their future space wherever they might land.
If you want to find out more about Death by Audio, the effects company, come on over to Pedal Finder and check out what they have to offer. While you're at it, leave a review and gain an entry into our Pedal Finder giveaway that is currently going on!
And just for fun, here's Thee Oh Sees live at Death by Audio.