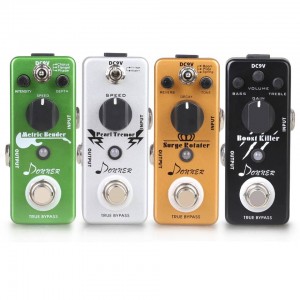 Cloned pedals offer the opportunity to get a great tone at a price that won't require you to sell a vital organ. The problem with clones is that lots of people make them, but not many people do them right. In fact, you can get some builders who do a specific clone perfectly, but the rest of their attempts to hold true to the original may fall short. This is why Pedal Finder offers reviews on all pedals. It's best to look around and see what others found out about an effect before you jump in with both feet.
Right now at Amazon Donner Pedals are anywhere from 50 to 70 percent off. Donner Pedals are clones of other great sounding pedals. And from the reviews, it looks like they do a pretty great job. What makes it most enticing though is the price these are offered at right now. Check these deals out:
Donner Yellow Fall Delay Micro Guitar Effect Pedal True Bypass
MSRP: $129.00
Price Right Now: $34.99
This pedal has three five star reviews with one reviewer saying, "$35 for an Analog Delay Pedal that sounds great, it's really a no brainer."
Donner Tutti Love Chorus Mini Guitar Effect Pedal
MSRP: $129.00
Price Right Now: $34.99
Clone of Boss CE-2
This pedal has 1 four-star review, but on the forums one reviewer said, "the CE-2 is a tad darker than the Tutti but not so much that I think I'd notice normally. If anything, the CE-2 colors the fundamental tone more than the Tutti".
Donner Morpher Distortion Effect FX Pedal
MSRP: $109.00
Price Right Now: $30.99
Clone of Suhr Riot Pedal
This pedal has 33 five-star ratings from Amazon reviews with folks saying stuff like, this "pedal sounds practically identical to the Suhr Riot, so close that if you have a good ear and you're playing alone in front of your amp you may just about notice a very subtle difference, but in a band or studio situation it is impossible to note any difference at all, and if you were doing a blind test between the Riot and the Morpher, you wouldn't be able to tell which was which".
Donner True Bypass Pearl Tremor Pure Analog Phase Effect Pedal
MSRP: $109.00
Price Right Now: $30.99
Clone of the MXR-90

These are just a few of the Donner Pedals that are currently available on Amazon for a screaming deal. If you're looking to fill in some gaps on your board (and these can fit some small gaps) you might want to check 'em out. It seems like they get generally favorable reviews.
As always, if you do pick up one of these pedals (or you own one right now), come over to Pedal Finder and tell us what you thought about it.