Last Friday was the premier of HBO's Sonic Highways which is a new series where the Foo Fighters go to various cities and recording studios to record their upcoming release also called Sonic Highways. The concept is for the band to go to cities that have influenced or impacted them in some way, and to really discover the history of that city. Dave Grohl would then write lyrics about that experience and record in that city. It's a pretty cool concept for sure. Last week's city was Chicago, one of my personal favorite cities! Here is the trailer for that episode:
In that episode there was a sequence where Chris Shiflett (lead guitarist) was working out a lead section of that particular Chicago song (Something From Nothing). During that sequence there was a good view of his current pedal board! As many guitarist do, his board has changed from his 2011 board (the latest board shot I could find). Below is a photo: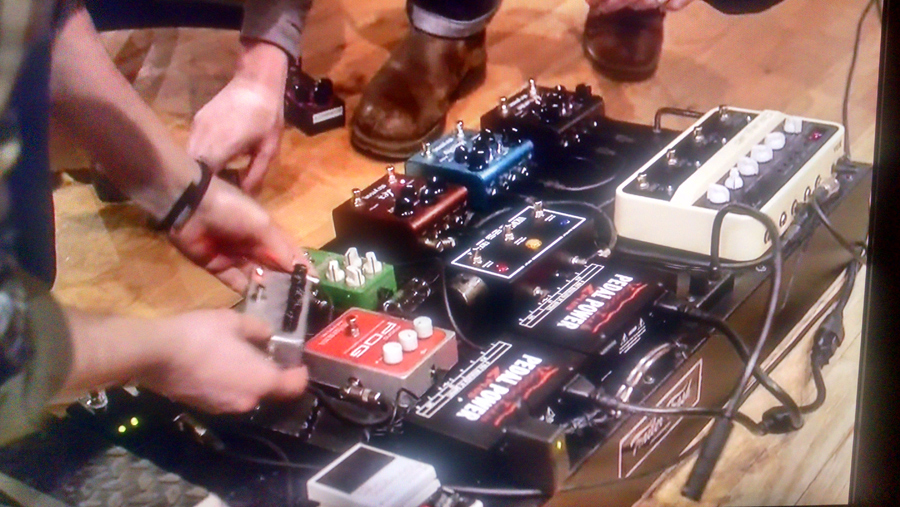 I was able to identify almost all of the pedals, but there are a couple in question. If you can help fill in the blanks, please help by commenting on this post!
Strymon El Capistan Tape Echo
Strymon Blue Sky Reverberator
Strymon Lex Rotary
TC Electronic Corona Chorus
Electro-Harmonix Micro POG
Heptode Virtuoso Phase Shifter
?? Distortion – in the show, they were working on a nasty distortion. I would suspect that the grey pedal is a home made type of dirt box. In previous pedal board shots, he would have a Fulltone Fulldrive 2 here.
Vox DelayLap Delay
Jumper/Switch for his Vox amp (2 green LEDs)
Boss TU-3 Tuner
Dunlop DVP1 Volume Pedal
2x Voodoo Lab Pedal Power 2+
Trailer Trash Board
Again, if you can provide some light on the Black 3 button pedal (UPDATE 10/27— this has been identified as the Heptode Virtuoso Phase Shifter that looks modified), please let us know by commenting below! Also, did you catch Sonic Highways? Let's us know what you think about the series!