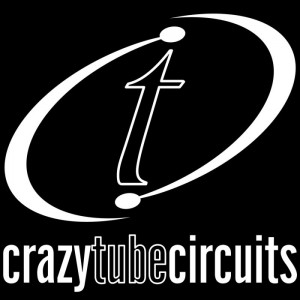 Athens, Greece is one of the world's oldest cities. It is often referred to as the 'cradle of Western civilization', serving as home to Plato's Academy and Aristotle's Lyceum. It is a place steeped in the learning tradition as well as the arts. It's no coincidence then that it is also home to Christos Ntaifotis' Crazy Tube Circuits – an effects manufacturer producing some smart, modern tones in all areas of effects.
In the fuzz/overdrive/boost department they have the Pin Up Fuzz, the Ziggy, the Stardust and the Vyagra Boost. The Time pedal is their delay/echo to warm your tone and The Bulb provides 25V of clean headroom for your compression needs. If you're looking for flange, chorus or vibrato, look no further than their new Stoned HZ. Enough effects to cover you for any event.
All manufactures and builders are busy keeping the pedals moving out the door and coming up with the latest effect, so Pedal Finder feels fortunate that Christos carved out some time to answer the questions put we put forth. It went something like this:
Can you give us some background on how you started down the path that lead to Crazy Tube Circuits? What was the moment you knew you wanted to build effects for a living?
About 12-13 years ago I was in a cover band and I needed some more extra sounds out of my pedalboard so I decided to build a few pedals that I found their schematic on the internet. My first attempts were treble boosters and fuzz faces. After a couple of years and a lot of study I started designing my own circuits. I remember when I designed Doctor Boogey, a circuit I posted in the DIY stompbox community and to this day is one of the most built DIY distortions. I haven't slept for 3 days trying to fine tune the circuit before posting it. Crazy Tube Circuits "Black Magic" is based on Doctor Boogey.
I started building some for my friends and then through the word of mouth I had customers asking for my designs. I didn't start building effects for a living, it just happened.
Lots of great musicians are putting CTC pedals on their boards such as Nels Cline, Billy Gibbons, Brad Whitford to name a few. Are any of your pedals inspired by specific musicians or have any musicians approached you to build a specific pedal or pedal mod?
Most pedals are built to cover my own "needs". I have always listened to musicians' feedback in order to fine tune them.
Crazy Tube Circuits is based out of Athens, Greece. Are there any local bands that you think our readers should know about?
Artists like Onirama, Nikos Portokaloglou and Christos Thivaios are just to name a few. I am always happy to walk in a club and see a CTC effect in the guitarist's pedalboard whether it's in a famous band or just some guys having fun.
Can you take us on a tour of your shop? Does all the magic happen in one room, or do you have multiple rooms dedicated to the creative/construction process?
We have just moved in a bigger location to cover the needs of a growing production while preserving the same construction methods as before meaning all pedals are built by hand in the shop. There is the "heavy room" where all the drilling, painting, etc takes place. Then there is another room we call "the lab" where all pedal assembly takes place. From PCB population to final assembly everything is done here. When a pedal is ready we test it at full volume in our in-house recording/demo room. We test every pedal in production not just a part of them and that's why we have among the lowest failure rates in the industry.
I've read that your favorite part of your job is the research and development aspect. Do you have a specific method for researching a new pedal and developing it into a working model, or do you draw inspiration from many places?
Inspiration for a new design can come from everywhere. A sound I have in my head or an idea from a friend or a question like "what if this could work….." An idea starts in my mind and I try to build it theoretically on a circuit simulation software. Then the breadboard takes over. Most of the times theory is far away from practice. But that's the fun part. Trying to make crazy things work. Even you forget to eat or sleep for a few days.
What is your #1 piece of advice to those who are diving into their first pedal build/mod. Any reference material in the library or on the Internet that you think they should look at?
Never give up! I have failed quite a few times on my first ever build which was… a rangemaster clone (no surprise there). Read as many electronics related forums/articles/datasheets as you may find online. There is loads of information that will help you in your next build.
Is there an effect that you've been chasing, that you just haven't captured yet?
Yes my next one 😉
Does CTC have any camaraderie with other effects builders? Have there been times when you've heard a pedal and you thought, "This is amazing!"
As a pedal enthusiast I always keep track of any new pedal coming out. Catalinbread, Earthquaker Devices, Malekko, Zvex, MXR and Electro Harmonix are some of the companies I really respect for their products.
When you and your CTC crew aren't creating world class effects, what are you doing to pass the time? Any hobbies or games you like to play?
I started out building effects for a hobby and after more than a decade it still remains my main hobby.
What's the future hold for Crazy Tube Circuits?
A few new designs that keep traveling through my mind for a couple of years and some updates on previous ones.
Sounds good to us! Keep an eye on Crazy Tube Circuits here at Pedal Finder and don't forget to like us on Facebook so you can get all the latest info on builders, deals and give-a-ways directly into your feed! Or subscribe to our newsletter and never miss out!