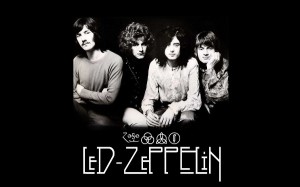 Longevity isn't something that many bands can boast about. And I'm not talking about being an actual band for a really long time, but also having music that lasts throughout the decades regardless of how many albums you have under your belt. It's hard to capture a moment of sound that will hold relevance for ages to come, but that's exactly what Led Zeppelin did during the course of their reign of Rock and Roll.
Recently, we found an interview with Jimmy Page that he did with Absolute Radio from across the pond. The full 22 minute interview is worth a watch. Mr. Page goes through his history of guitar playing from skiffle to modern day. There are a ton of tasty tidbits of information about his life of music as he talks about some re-releases of Led Zeppelin tunes. The best part of the interview is where he makes a short mention about the first fuzz/distortion pedal he came across. Perhaps the first ever? That video is here:

The full interview is below. Check it out. And if you get a hankering to talk more about fuzz/distortions, come on over to Pedal Finder and leave some reviews!