Another week down and I'm still no closer to finishing that Jimi Hendrix inspired birdhouse I started in 8th grade. In case you've been busy building your own '27 club' inspired birdhouse let us tell you what you missed.
Mod Tone Pedals at Screaming Prices
Right now at Amazon you can find a few Modtone pedals at screaming deals. The Modtone Speedbox Distortion Pedal is selling for $45.35 (MSRP: $119.99).   The Modtone MT-CB Clean Boost Pedal (MSRP: $199.99) is now $65.54. The Lemon Squeeze Compressor, regularly listed at 159.95 is currently on sale for $65.60 . And finally, the Modtone MT-AD Vintage Analog Delay is a meager $68.59 (MSRP: $199.95). Note that there were limited numbers of these pedals at the time of posting. Regardless, some great deals on some solid pedals.
From Croatia with Love
Being from Montana it's hard to impress me with scenic vistas. Montana has the Bitterroot Mountains, the Rocky Mountain Divide, Yellowstone and Glacier National Park for crying out loud. It doesn't get much better than that. At least I thought so until a few years back I heard about a mountain unicycling (Muni-cycling for those of you not up on the sport) competition going on in Croatia. Talk about some beautiful countryside. Do yourself a favor and Google "Croatia Countryside" and take a look at the images and start planning your next trip.
Well, it turns out that muni competitions and amazing landscape isn't all they have to offer. Croatia is also the home of Dawner Prince, a pedal company creating some beauty of their own. We talked about them and their new Viberator pedal this week. If you haven't, check 'em out. And stay alert, because word on the street is we are going to have an interview with the folks behind the company here very soon!
Green with Envy
This week we mentioned a new pedal from EHX called Turnip Greens. A combination of the Holy Grail Max Reverb and the Soul Food Overdrive. Honestly, if Electro-Harmonix just spent the next 10 years crushing together two of their pedals into one box with slight modifications, I'd be a pretty happy person. Eat your greens!
Sugar Cubes, Daisies and Volkswagen Vans
Pedal Finder aims to be the Leatherman in the search world of guitar and bass effects pedals. And one of the cool things we can do is show you what pedals other musicians are using in a certain genre of music. This week we pulled out all the pedals that people use in their psychedelic inspired music and the list was pretty great. Not interested in Psychedelic music – then search another genre to find something you are interested in – it's easy.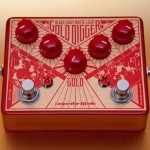 There's Gold In Them Thar Stomps
This week we shouted out about Looperstar Effects and M&E's Gold Digger pedal which besides being a dirty fuzz with a 'dig' knob that causes the pedal to offer undertones of static, oscillation, bleeps and other random tones, it also has the album from Black Light White Light – Gold Into Dreams – embedded in the pedal for your enjoyment. How fun is that?
That's it for this week. Now go away, you're bothering me.