The week can fly by and if you've been busy, you might have missed a few of the pedal related highlights. But fear not, we've distilled the week into a few short news tidbits so you'll actually have something to talk about with folks at that party this weekend.
Holograms on Letterman
Back in the first part of September, we posted about the new Miku Stomp pedal from Japanese manufacturer Korg. The idea behind the pedal was to give guitarists the same type of vocal tone as fictional singer (and superstar!?) Hatsune Miku. Well, in case you were doubting the just how big Miku is, she's come to the states and premiered on David Letterman this week. The video is right here. And, make sure you stay all the way till the end – Dave's closing remarks are worth it.

EHX Pitch Fork
This week, Electro-Harmonix announced the arrival of the Pitch Fork. This unique pedal, when plugged in, uses 5 dollar words to judge your new indie band harshly. Oh, wait, that's a different Pitch Fork. The Pitch Fork pedal, according to their releases, "transposes an instrument's pitch over a +/- three octave range and features three modes which allow the pitch to be transposed up, down or both, simultaneously." A pedal that goes both ways? What will they think of next? Video here:

Awesome Guitar Exhibit Opens
If you live in New Jersey – or in those parts – you are psyched! A new guitar exhibit opened at the Liberty Science Center that has the makings of being road trip worthy. The exhibit is dubbed, "The Instrument That Rocked The World." Ok, that's a bit cheesey, but what's not cheesy is getting to see a collection of guitars that include the world's biggest guitar and the world's only playable 8-necked guitar. Beyond the freak show and rarities, you'll also get a pedal-board full of guitar history that you can peddle (see what I did there) to your friends the next time your chugging a cold one at your local watering hole. Check out a gallery and the full story here.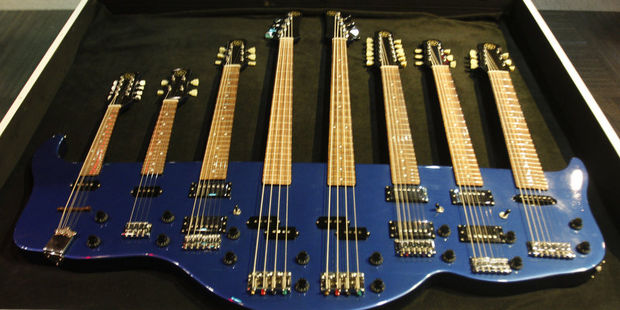 New Manufacturers at Pedal Finder
This week saw new manufacturers at Pedal Finder, meaning these builders of effects are now open for reviewing, tagging and searching. So go check out Vox and Blackout Effectors!
Have a great weekend!