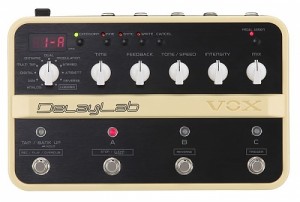 We got a new builder in the database! Vox is one of those builders that's been around for a while and has garnered some huge history over the years. They were founded after World War II, in England by Thomas Walter Jennings. At the time, his business was called the Jennings Organ Company. His first big hit was a self-powered keyboard he called the Univox. However, once Jennings came face to face with a guitar amplifier for the first time, he decided he wanted to try his hand at one as well. The result was a Vox AC15 amp that would become well known as the amp of choice amongst popular British musicians such as the Shadows and eventually the Beatles and others.
Today Vox makes a slew of equipment from guitar pedals, guitars, keyboards to ukuleles. And they do a lot of it well. Along the way they began to meddle in the world of effects and have brought to life a slew of great tones from delays to distortions.
Amongst their productions are the Vox Delaylab – which gets great reviews, the Time Machine, the Double Deca Delay, the Lil' Looper, Ice 9 Overdrive and the Cry Baby A4 – one of the most popular wahs in the world. With many of these boxes used by musicians and multiple genres all over the world it's worth checking them out. So head on over to Pedal Finder and see what there is to see. Leave a review of your favorite Vox Pedal or just browse the selection and get some ideas for your next pedal purchase.
And here's a video of what the Vox Delaylab can do courtesy of :