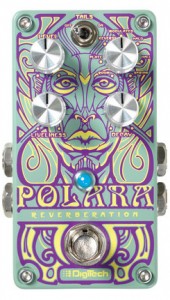 Reverb is one of those effects that nearly every board must have. There are a some really great reverbs out there – the standards – that most people agree are the top of the shelf models like the HOF, the blueSky and the Holy Grail to name a few. Now, Digitech is making another run at a reverb that you can't live without, but this time, they are taking a combined approach with their new Polara Compact Reverb Pedal.
The idea behind this pedal is to meet multiple needs in one small box by providing seven Lexicon reverbs in a space saving enclosure. It's pretty enclosure too with a futuristic tribal feel adorned in purple and teal. The clear knobs give it a unique visual impact and is sure to spice up your board. But enough of the visuals –what does this new pedal provide for tone?
Room Reverb – The warmth and intimacy that you would expect from a high quality pedal.
Hall Reverb – Provides you with tones derived from the largest hall on earth – giving you vastness squared.
Spring Reverb – Nails the traditional sound of the classic reverb we know from amps and surf music.
Plate Reverb – Get that recording studio reverb sound with this setting – classic plate!
Modulated Mode – This adds a chorus effect interwoven into your reverb choice for some nice textures.
Reverse Mode – This setting gives you the 'Paul is Dead' backwards- tape effect for those who choose to play 'effected.'
Halo Effect – This is a new effect being introduced on this pedal. Straight from the Digitech camp, they describe it as, "cascading octaves interspersed in the reverb decay for a spellbinding sonic aura." This is perhaps the most exciting aspect of this pedal. As of right now, there are no videos out that we could find giving a demonstration of this pedal, but when we find one, we'll get it up for all to hear.
All of this in a pedal that also offers deep controls into your wet/dry mix, independent levels, decay and type controls and the ability to toggle your reverb tails. Check it out! And check back here for videos once we find some from Digitech.