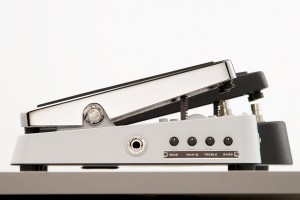 Xotic is a builder out of Los Angeles with a sizable catalog of popular pedals They started out 1996 building high-end basses and from there began producing quality boxes for the discerning musician. From the Xotic camp you'll find pedals such as the RC Booster Clean Boost, the Xotic Effects SP Compressor, the SL Drive and the X-Blender – a switchable series/parallel loop that is your answer to a deteriorating signal due to a long chain of effects. Now they've decided to tackle the Wah Pedal, but their version of the Wah comes with a few additional extras.
First off, this model is based off the Clyde McCoy Wahs – those made in Italy in 67-68 and considered by many to be some of the best wahs ever produced. In terms of control, your getting a slew of it. A bias control lets you go warm or cold with your sound and everywhere in-between. The Wah Q control allows you to modify the width of the filter peak – which is what gives a wah that great sound. Along with this you get bass and treble controls to really hone in on the tone you want.
Some other neat aspects of this pedal include tension control on the rocker pedal so you can set the resistance of your wacka-wacka, an LED indicator so you know what's on and what's not, and a rubber stopper on the back of the pedal that allows you to control the total travel of the pedal so you always come back to the same tone. Good stuff all around and it's 20 percent smaller than conventional wah pedals.