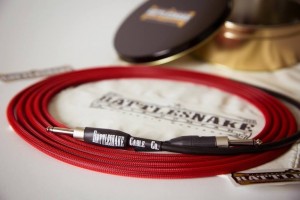 Here at Pedal Finder we are all about bass and guitar effects pedals. You won't find us talking too much about different styles of guitars, amps or other accoutrements, because we don't want to muddy the waters and there are others out there that have taken that on as their mission in life. However, sometimes you have to make an exception and today we are doing just that for Rattlesnake Cable Company out of Missoula, Montana.
Rattlesnake Cable Company is the creation of Hank Donovan. If that name sounds familiar it's because he's also the creator and blogger at Effects Bay and also the visionary behind Pedal Finder. Although those ties alone would be enough to convince me to chat up his cables, the real reason for this interruption in our regularly scheduled program is because of a review that was recently done by Nick Jaffe over on his YouTube channel JustNickMusic.
If you've never heard of Just Nick, you need to check him out. He takes a simple gear review and often turns it into a chance to educate his viewers on the deeper aspects (read: science) of the tone/gear/pedal/equipment he's playing with on that day. He made no exceptions when reviewing Rattlesnake Cables by starting the video out with a proclamation: "All cables of equal total capacitance sound identical by definition…I'm going to tell you the real reasons to buy cool cables" He then proceeds to whip out a dry erase board to talk about the science behind it all. It's good stuff.
So give the video a view and maybe learn something you didn't know. Hey, it could happen.