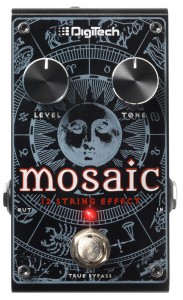 Pretending to be something you're not is usually reserved for those in the acting business. It doesn't work very well in the world of music because, frankly, our ears are much more sensitive than our eyes. Listeners can pick out meaningless lyrics and cast-off chord progressions backed by half-hearted musicians in an instant. And when they do the channel gets changed. And yes, I do believe that Meghan Trainor is really 'all about that bass', much more than I believe that Scott Stapp is waiting by with 'arms wide open.' Point being – just because it's on top 40 doesn't mean the musician isn't earnest. That's a different argument though.
Recently DigiTech offered a new pedal to help you pretend in a much more deliberate and useful manner. The pedal is the Mosiac, which according to Digitech is a "Polyphonic 12-String effect pedal [that] sets you upon the path of creating lush 12-string sounds with either 6-string electric or amplified acoustic guitars." With this pedal you can cut down on the number of guitars you need to bring to the gig. Especially handy when your singer decides to break into an impromptu version of 'Green and Grey' for your second encore.
Level and tone allow you to really control the sound of the '12' strings fading them in an out as needed. Simple controls for simple deceptions, ease of use and your ultimate success. Let us know if you come in contact with this pedal. We want to hear all about it!
And, while I have your attention, let me remind you about the current giveaway going on for the Heptode Virtuoso! You still have a few weeks left to gain multiple entries into this awesome contest!