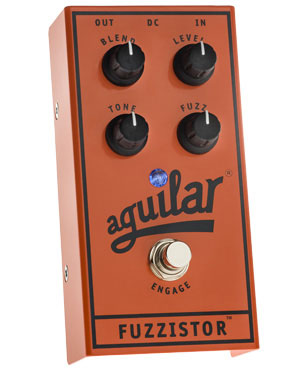 2015 already saw the announcement of the Soul Food for Bass from Electro-Harmonix. A 'Klon-like transparent overdrive' set up and registered for bass tones. If that wasn't enough to get those who fiddle-on-four excited, then perhaps this little nugget of info will wake 'em up. Aguilar has put together a new fuzz box for bass called the Fuzzistor.
Aguilar is one of those companies that makes it all: amps, pickups, effects and cabinets. They do each of them well, but they have a good history in the arena of bass effects. According to them, the Fuzzistor "provides classic silicone transistor distortion with complete control over the BLEND of the clean and Fuzz sound, amount of FUZZ from subtle to crushing, LEVEL for gain matching, and TILT EQ that changes the harmonic structure of the Fuzz from booming to gnarly." Powered by nine volts, this box even has a gig saver bypass which will still allow your signal through even after your 9-volt passes on.
So far, 2015 is starting out big in the world of floor based effects. We'll keep churning out the news, but let us know what your hearing out there as well. We're always hungry to hear the latest and greatest. And, keep your eyes open here, because have new giveaways coming up and they are not to be missed!