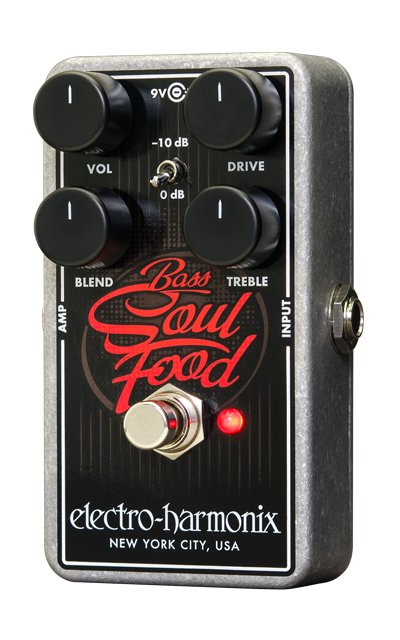 News and information is pouring out of Winter NAMM 2015 faster than we can process over here, but that doesn't mean we aren't going to try. Recently we heard about Electro-Harmonix's plan to release a Soul Food for the bass! Mike Matthews, the President and Founder of EHX summed it up nicely, "Our Soul Food put 'Klon-like' transparent overdrive into the hands of players at an unprecedented price point. Now we want to bring that to bass guitarists and guitar players who want more low-end definition."
Another tool for bassists is never a bad thing. Like the original Soul Food, this pedal has 4 knobs and 1 switch. The knobs control volume, blend, drive and treble – making it possible to use this pedal as a clean boost as well as blending in a little drive. As an added bonus, you can switch on buffered or true bypass and drop the whole scale by -10db with the flick of a finger. Good Stuff.
Here's what EHX has as a demo video right now. If you get your hands on one of these – leave a review!