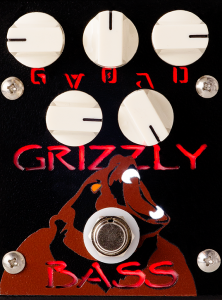 Saw a post on Gear Talk earlier today from a member who was poking fun at Bass Players with pedalboards. If you don't know about Gear Talk, I'd describe it like this: "In a land of musicians who spend at least some part of their day thinking about the equipment they own, the equipment they want to buy and the equipment they have regrets about selling — Gear Talk (and Gear Talk P/W) is nerd central in the best way." Yes, I just quoted myself.
Anyways, the post was about how a bass player with a pedalboard was somewhat out of place. I'd never really thought of that before.  It does seem that bassists traditionally have a clean, booming sound. But, surely there are a ton of bass players out there that tweak their sound with effects. And, I'm sure there are. What I'm also sure of is that there are not a lot of bass effects pedals out there when compared to how many guitar effects pedals there are. However, as this search of Pedal Finder's Bass Pedals will show you, there are a lot of bass players ready to use whatever it takes to get what they need out of their axe. Whether it's a true bass pedal or not!
Well, add to the growing collection of bass pedals the Grizzly Bass from Creation Audio Labs. According to Creation Audio, the "Grizzly Bass is a different kind of animal created with the pro player in mind. Like a tube pre-amp but without the fragile tubes or heavy transformers.  Drawing from the experience and technological advancements present in other Creation Audio boxes; Grizzly Bass has studio specs and stunning aesthetics." Seems like without the tubes, you are able to get a tube-like sound without being afraid of taking it on tour. Tour worthy gear has merits!
This is a builder that doesn't disappoint and this seems like a great bass pedal alternative for people who want a single box for multiple dirty sounds. Check out the video demo below. And don't forget that Pedal Finder has a contest going on right now! Easy to enter and you may just win an Outlaw Effects Five O'clock Fuzz!