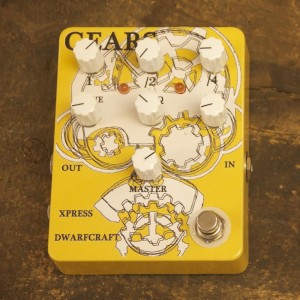 From the land of innovation and experimentation (and beer and cheese), comes the pedal we've been warned about for months. Yes, the pre-order is happening, the anticipation has been ratcheted and the demos have slowly spilt onto the internet like fresh blood onto a white surface in an indie horror movie. Keep your pants on and you might make it to the credits for this one. Gears has finally arrived from Dwarfcraft. Pay attention.
This box is an overdriven, sub-octave generator with a resonant filter that has an expression pedal input. This is a device that will allow a guitarist to emulate many familiar synth sounds, as well as create brand new ones from scratch, on the fly. This box is bursting with Electronic "wubs" familiar "wahs" and plenty of other new sounds that you will be able to effortlessly dial in and modulate with your foot via an expression pedal (expression pedal sold separately). Oh yeah, it's also tailored to work wonders with bass guitars.
BONUS ROUND: You might be thinking to yourself: I love Dwarfcraft. I own Dwarfcraft. But, I still owe rent for January, the dog needs a new kidney, it's my [kid's|wife's|brother's|sister's] birthday, not to mention Valentine's day. I can't go out and buy a new pedal in February — it's just not possible! We'll don't fret, 'your old friend Aen' and the rest of the crew are going to hook up a lucky winner. Just head over to their FB page and enter to win a GEARS of your very own.
BONUS BONUS ROUND: Pedal Finder also has a giveaway going on right now – lest you forget. So head on over and enter to win an Outlaw Effects Five O'clock Fuzz (it will take 8.5 seconds) and like us on FB for bonus gear if you win. No brainer here folks. Two great contests and it's only Tuesday.
And of course, here's the GEARS demo: