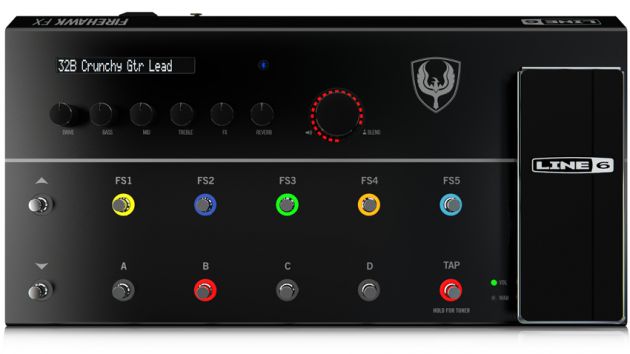 You ever get the feeling that Line 6 just likes putting effects in big boxes, just for the sake of putting effects in big boxes? Like somewhere back in the history of their company a marketing guru was like, "You want to get noticed on the shelves in the stores, then our pedals have to be massive!" Probably not, but they do love taking up space on the pedalboard. The thing is, when they do take up space on your board with their effects, it's usually a space that can't be filled by any other pedal out there. They make some nice stuff. Keeping in line with taking up space and making nice stuff, this next pedal is massive while at the same time saving more space than just about any other 'pedal' out there. It's their new Firehawk FX Multi-Effect Guitar Processor.
From the press release: "Firehawk FX is packed with over 200 amps and effects, giving guitarists powerful flexibility to create their own sound, or reproduce the tones of any recording. From warm vintage classics to high-gain powerhouses, the world's best amps—including 50 HD models—are included. Firehawk FX is also loaded with inspiring effects, including must- have stompboxes, rare studio effects, and stunning Line 6 originals."
Two-hundred amps and effects! Right there on the ground in front of you! Having access to that many effects is hard to resist on paper. In practice, too many guitarists love their analog, hand-wired, limited edition, one-offs from the company working out of the garage down the street. As I write that, I realize that I make that sound like a bad thing. It's not. Independent, small basement-dwelling builders are at the heart of our obsession with pedal effects. Mainly because those very same builders share our obsession.
And Line 6 shares this obsession as well. They've just 'been there, done that' and now are in a position to chase after huge ideas – like cramming 200 effects into one board. I'm really excited to hear reviews about this because I bet it sounds amazing. Great sound tethered to practicality is going to result in us hearing some good things about the Firehawk! If you get close to one. Let us know.
Also: Easy Giveaway Going On Right Now!