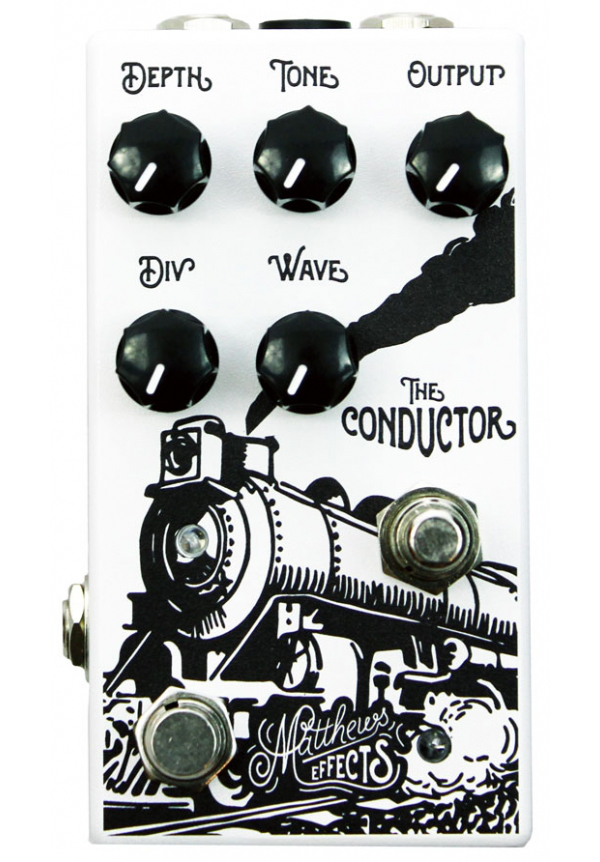 Out in Eastern-Washington is a boutique builder who's been carving his own path in the world of guitar effects. Rick Matthews of Matthews Effects started out with an interest in switches that led to a deeper interest in pedal board circuits. Eventually, he found himself being mentored by Keith Vondurhulls of buildyourownclone.com. He has taken what he's learned and created a nice line of pedals that are meant to inspire musicians to new areas of creativity. His latest pedal is the Conductor – A tremolo pedal with enough knobs to give a guitarist total tonal control.
Set in a standard-sized enclosure, the Conductor has two switches and 5 knobs. The knobs control depth, tone, output, div and wave. Even though the box is slim and takes up very little real estate, the knobs and switches don't feel crammed in and crowded. On top of all this it has an on-board tap-tempo switch, but allows for external tap controls as well. So many options and diverse controls make this pedal worth paying attention to.
If you like what you see in the Conductor, you should also check out his other pedals: The Architect (Boost/Overdrive), Pocket Drive, Pocket Buff and The Whaler (Fuzz).
REMINDER: Tell you neighbors, tell your friends, tell your mom, tell your teacher that the Pedal Finder | Outlaw Effects giveaway is still going on right now! Enter Here! It's so easy you'll feel dumb if you dont!
Also — Demo below: