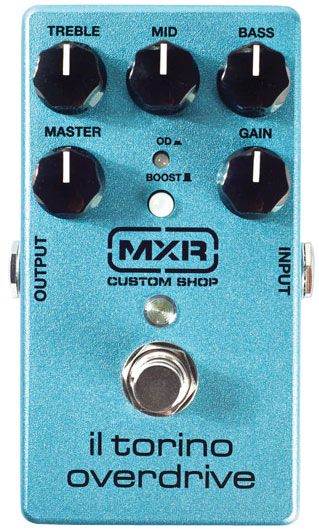 Carlo Sorasio is a legend in the boutique amp and pedal world of Italy. He's also a frequent guest engineer at the MXR Custom Shop. From what I can find on the internet this Sorasio fellow is a true custom builder, putting together custom tones for Italy's top music acts. However, I can't really find out much more about him. Maybe it's because I'm stuck in the US and don't speak a ton of Italian, but all I can really get from the interwebs and some research are vague praise for his broad range of un-described accomplishments. What we do know however, is that he created the new MXR Il Tornio Overdrive with the folks at MXR.
According to MXR, the Il Torino uses, "MOSFET technology to recreate the gain structure of classic tube preamps, allowing it to sing with sweet, touch responsive saturation and natural sounding compression."  The pedal comes with a 3-band EQ section so you can finely shape the sound of the overdrive and a BOOST/OD switch to toggle between Boost Mode—a cleaner sound with just the right amount of compression and sustain—and OD Mode—a more aggressive, cranked tube amp sound. Finally , it uses a sophisticated bypass system in the form of a Class A Low Impedance Output Driver—essentially a form of buffered bypass—to keep your tone sounding warm and natural across long signal chains where signal loss normally occurs.
Let your ears be the judge of the hype surrounding Mr. Sorasio and the latest overdrive from MXR. Demo below. And, don't forget that Pedal Finder is giving away a Outlaw Effects Five O'clock Fuzz. There is still time to enter. So don't dawdle!