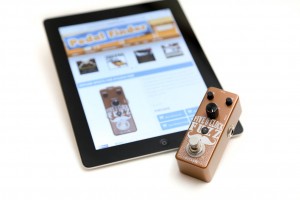 GIVE AWAY IS CLOSED
February is the month we take to reflect on that special someone in our life. The month we pull out all the stops and make up for all the other months when we fell asleep on the couch watching reruns of Mork and Mindy on channel 57, instead of working to woo and admire our partner. It just so happens that it is also the month we giveaway an Outlaw Effects Five O'Clock Fuzz. Because we all know real love doesn't come from the heart, it comes from a stompbox, plugged in and ready to rip.
Outlaw Effects is the company that works hard to, "give you the tools to create big, bad, boutique tone at prices that are almost criminal." All of their analog pedals come in micro-sized boxes with staggered inputs/outputs to ensure they take up the least amount of space. Made of ultra-durable aluminum alloy and top-of-the-line components, these pedals are ready to go on the road. And, every stomp they make has true bypass switching.
These guys have a really extensive line of pedals that cover all the bases — and the prices will bring a smile to your face.
The Five O'clock Fuzz is just one of their latest pedals in the series. Here's a quick description straight from the source:
The Five O'clock Fuzz features loads of rich, cascading sustain with crisp attack and subtle compression. With this pedal you can go from waxy smooth, violin-like sustain to grittier tones with razor-sharp bite. Sculpt your fuzz tone into everything from the thick leads of 1970's classic rock to heavier alternative sounds of the 80's and 90's.
Words are good, but videos are better. Here's a video demo of the Five O'clock as well as the Boiler Maker Boost – another pedal they recently released. It might not hurt to keep on eye on the Boiler Maker as well. You never know when you might see it around here again:
So listen up, because this is the part where we talk about the giveaway. And let me say first, huge thanks to Outlaw Effects for offering this great pedal up! Like I mentioned before, they are doing amazing things with effects, so make sure you like them on Facebook, check 'em out on Twitter and obviously visit their site!
Ok, we had some really great responses from our last giveaway, but we wanted to switch up the format a little bit to keep it fresh. This giveaway is going to be super easy to enter – no need to submit pedals or reviews, etc. Just fill out the submission form below and hit 'Enter.' That's it!
On February 25th at 2pm MST we will pick a random entry. We will email the random entry and ask for the answer to the question filled out below in the form. The random entry will have 24 hours to respond with the correct answer. If the 24 hours passes and we don't hear back, we repeat the process until we confirm a winner.
This specific contest is open to everyone – even our visitors outside the United States. However, we ask that you only enter once. Our other contests allow you to enter multiple times. This is a separate beast. But don't fret, all of you that submitted pedals, artists, YouTube videos and reviews, the future holds many opportunities to put those submissions (and all the new ones you gather) to good use. We promise!
Again, the submission form will be up until February 25th (Wednesday) 2PM MST.
IN ADDITION: If you like Pedal Finder on Facebook AND you win the contest we'll throw in a large pack of Pedal Labels for Free! So it's a no-brainer — like Pedal Finder on Facebook and get even more free stuff if you win. We even make it easy for you by providing the link below! Good Luck!
 GIVE AWAY IS CLOSED