Montreal, Quebec is the second-largest city in Canada and the 9th-largest in North America. It's a compact, dense metropolis busting with culture and brimming with diversity, boasting a population of over 3.8 million people in the surrounding area. It's a place of civilization and a far cry from the American west of the 1800's. Yet, hidden in this city are two guitarists – Erik Lind and John Kelley – who recently set out on a mission to supply modern day guitarists with compact micro-pedals that pack in unique tones under one cohesive brand. What they came up with was an aesthetic centered around the wild west and the name: Outlaw Effects.
Before we get into the interview, I think it's important to point out that these two put out eight pedals in 2014 and just released another two in 2015. That's 10 micro-pedals in the span of about a year, give or take. Of course, working at a musical instrument distributor taught them a lot about getting to market fast, but that's only half the story. Creating pedals worth distributing is the other and if you read the reviews it appears that they have both sides of this operation firmly under control.
Pedal Finder was lucky enough to partner up with Outlaw Effects for a very special giveaway of their 2015, Five O'Clock Fuzz. The giveaway has been going on for the last few weeks and it ends tomorrow! We thought this was the perfect time to ask Erik a few questions so we could get to the bottom of how Outlaw Effects came to be, what drives them and where they hope to end up. It went something like this…
1. How did you start designing/building pedals and where are you located?
We're based in Montreal, Quebec. Outlaw Effects was founded by myself and John Kelley. We're both guitar guys who happen to work for a North American musical instruments distributor. We've been fortunate enough to encounter some great gear – particularly pedals – both through our jobs by day, and continuing to gig and connect with fellow musicians on the side. Micro effects in particular began tweaking our interest, as we were very familiar with the feeling of having a lack of pedal board real estate, yet wanting just one more tone option (which, of course, is never really just one). We started Outlaw Effects because we found that the affordable, micro pedal market was largely made up of brands that didn't do all that much to differentiate from one another. We thought we could develop a line of great effects, while giving players a real brand that they could identify, communicate with, be heard by, etc. We're not engineers ourselves, so we partnered with a small designer/manufacturer to develop a line of ultra-affordable micro pedals that would be built with quality components.
2. Your pedals seem to have a theme both in their size and in reference to the wild west. Is there an Ennio Morricone fan in your midst or is there some other reason for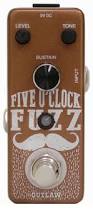 the homage to the days of the gunslinger?
We knew we wanted something to tie the pedals together, and that we could have a little fun with. The initial inspiration spark actually came from John's memories of watching reruns of the 60's TV series The Wild Wild West as a kid – and of the animated title sequence in particular (http://youtu.be/tu-8W-Sredo). That idea stuck, and we took it from there.
3. What was the first pedal Outlaw Effects developed and what was that process like?
We actually came to market in 2014 with eight pedals, which were done simultaneously! When we first met our manufacturing partner, he presented some ideas for core effects. We went back and forth as we tweaked designs until we were satisfied that we had a line that we were proud of, and that could appeal to a pretty wide array of players.
4. Where do you draw inspiration from when going into a pedal design.
I think it's impossible not to be influenced by tones you hear in the stuff you listen to, and what you play yourself. I'm personally into a lot of guitar-centric indie rock stuff… lots of interesting delay uses, warm drive tones, some quirky modulation stuff, etc. But you can't get pigeon-holed into building just for your own preferences. Sometimes, you almost want to say "OK, what effect would I never use personally" – and then make that.
It's also natural to be inspired by new gear that is out there. For example, I've seen a few great octave/pitch shift pedals pop up recently from some of my favorite builders, and have simultaneously been hearing that effect used by a few of my current favorite bands – and suddenly we're working on an octave pedal.
5. Are there any sports or organized activities that the folks at Outlaw Effects like to partake in when they're not designing/creating awesome effects?
I'm Canadian, so – surprise, surprise – I play hockey on a weekly basis. I'm actually part of a 8-team league made up of people from Montreal's music/arts community. My partner John is an avid swimmer.

6. Does Outlaw Effects have any camaraderie with other effects builders? Have there been times when you've heard a pedal and you thought, "this is amazing!"
We're establishing that. We've been at a number of cool, small pedal shows since launching last year where we get to know other builders. We've taken part in the Deli Magazine's Stompbox Exhibit at Summer NAMM and CMJ – and we'll be at SXSW in March. We're getting to know the folks behind the great established brands out there. Since John and I are not engineers/builders by trade, we have a "we're not worthy"-type appreciation for these people and what they do.
7. Is there a pedal tone that you are really looking forward to designing or working on?
The octave pedal I mentioned above is something we're excited about.
8. What local bands in your area do you think our readers should be checking out right now?
I just caught a really incredible Montreal experimental pop band called Thus Owls the other night, for the third or fourth time. They're great, just really melodic and ethereal and haunting. The band is led by a wife/husband duo, Erika and Simon Angell (Swedish and Canadian respectively). Simon is without a doubt one of this city's best and most inventive guitarists.
Another current favorite (also Canadian) is Bahamas, aka Afie Jurvanen, of Toronto. He writes really catchy, lush, soulful folk songs – and happens to be a phenomenal guitarist (he previously toured with Feist). Speaking of octave pedals, he does really tasteful stuff with that effect. And it's effortless; there's no flashiness. He doesn't bring a bassist on tour… just him, and drummer, and some backing vocalists. And he plays an awesome vintage Silvertone.
9. With a ton of pedal designs/builds behind you, what do you consider to be the hardest part about getting a new design from paper to stage? What's the most fun?
I suppose the hardest part for John and me, being non-engineers, is accurately conveying opinions/ideas to our manufacturer/designer, without having the technical background. We can express what we want it to sound like, but not necessarily how to make it sound like that. Although so far, it has clicked rather well.
The most fun part – but also the most contentious – can be naming them. That's something that we put a lot of stock into; it's fun to give them a personality. The naming process can lead to some passionate discussions – although occasionally you hit one that's an immediate consensus (our new Five O'Clock Fuzz was one such case). Once we settle on a name, designing the graphics is also lot of fun and usually comes pretty naturally.
10. There are many pedal manufacturers out there today, what do you think has made Outlaw Effects so successful and separated them from the pack?
I think it's a combination of being in tune with what players are into these days, and also being exciting, engaging and consistent from a branding point of view. The micro market is experiencing a boom right now – there are lots of well-known brands building downsized versions of well-known pedals. That's because a) there's a strong demand for something small and analog, as many players today want an array of tone options but have limited space, yet don't necessarily want to drift over to a digital multi-effect with 1000 presets; and b) today's technology allows a lot of really great tones to be packed into a compact box.  So we were fortunate to find ourselves in a fairly hot segment of the pedal market.
We've been quite active on social media, and with press/blogs/media/etc. as well. It's a very crowded market, so utilizing every possible outlet – especially budget-friendly outlets – to grab the attention of players out there is crucial.
We've been extremely quick to respond to customer inquiries we receive via email/Facebook/Twitter, etc. A timely, personal follow-up can go a long way.
One of our biggest advantages is distribution. Outlaw Effects is fortunate enough to have been backed by SFM/Musiquip, a major North American distributor, from day one. This meant that our pedals became widely available almost from the start.
11. What does the future hold for Outlaw Effects?
We're just beginning to explore international distribution. Until now, we've been selling in the USA and Canada only. But some of the positive exposure the brand has received has led to legitimate interest from a number of distributors/retailers outside of our home continent – so we'll be aiming to get Outlaw overseas in 2015.
Also, more pedals! We just launched our 2 newest effects, Boilermaker Boost, and Five O'Clock Fuzz (which boasts my favorite graphic so far, for the record), bringing us to 10 models. But we're already looking at continuing to grow the line in 2015 – including an octave pedal, as mentioned. That said, we do want to keep the line manageable.
And who knows, maybe when the micro pedal market boom tapers off, we'll merge over to analog plate reverb units.
So keep an eye on these two. Make sure you head over to their Facebook Page and give them a like. Check them out on Twitter so you can stay up to date and get over to their website if you have any questions! It sounds like they have good things planned for the future. And finally, don't forget, if you get your hands on some of their pedals (perhaps you'll win one) leave a review at Pedal Finder so everyone can know what you think!