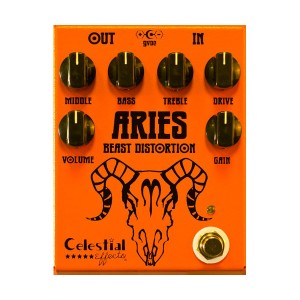 If you were born between March 21st and April 21st, then you know that you live under the sign of Aries. Aries is a fire sign and those who fall under it are generally passionate and determined. Aries are the type of folks that find it easy to move from one room to another, in and out of situations with little trouble or social stuttering. Aries are also determined and single minded, efficient and quick to act — performing until the job is completed. You could say they are driven. On the flip side, Aries can often times take on too much at once and burn out – unwilling to ask for help.
So there's your astrology. The only reason I mention any of this is because of the new Celestial Effects Aries Beast Distortion which is hitting the market as you read this. It's a bold new pedal that serves as a boost, overdrive and distortion. It goes hand in hand with their other amazing astrology (at least in name) themed pedals . Here's what they say on their site:
The Aries Beast Distortion's circuit is configured by stacking two gain stages in cascade (or in series) mode. The first opamp gain stage (GAIN) does not utilize clipping diodes. It's fuller and more open sounding. The second opamp gain stage (DRIVE) incorporates asymmetrical MOSFET clipping diodes and is tighter and more compressed. Mixing the two results in many sonic combinations of true dirt pedal bliss.

But we didn't stop there. We then fed the gain stages into a three band EQ, giving the user total control over the frequency response of the musical signal and finished the chain off with an FET gain stage. This FET gain stage corrects the attenuation (volume loss) from the EQ circuit and adds a tube like warmth to the effect.The Aries Beast Distortion is a true bypass pedal and uses no buffers in its design.

There is very little noise filtering in the circuit which allows your guitar's entire signal to come through. The Aries Beast Distortion is extremely touch sensitive and responds beautifully to every nuance of your guitar playing.

Built like a tank using the best components available – including an all metal durable coated enclosure, CTS pots and Switchcraft jacks. Totally hand built, this pedal will keep you rocking for many years to come.
Pulling off a multipurpose pedal – even one that claims variations on a theme – is a big deal. Pedals that pinpoint a tone and do it well are all over the market in all types of styles. I'd argue that this is less the reality when it comes to broad-toned pedals like the Aries. But, Celestial Effects isn't new to the block. They have a line of pedals with a rich history of delivering the goods. Dying to hear some reviews on this one, so if you get a chance, head over to Pedal Finder and let us know what you think if you get to plug in. Until then, we have this video of the folks at Celestial giving a sneak peak of the prototype.