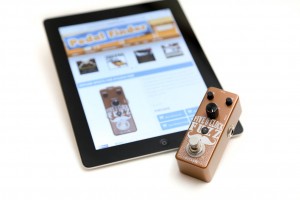 The last several weeks have been a blast getting to know Erik Lind and John Kelley, the fellows behind Outlaw Effects. These two Montreal residents set out with the goal of creating a line of micro-pedals for the serious musician. Pedals that sounded great and provided flexibility. Their line of 10 pedals has been on the market for about a year and already they are garnering favorable reviews. This year they released two new pedals (so far) the Boilermaker Boost and the Five O'clock Fuzz. We were super excited when they agreed to partner with us and offered up a Five O'clock Fuzz for the giveaway.
As many of you already know, the Five O'clock Fuzz is micro-pedal, but with full sized controls. This pedal has loads of rich, cascading sustain with crisp attack and subtle compression effects. With it, you can go from waxy smooth, violin-like sustain to grittier tones with razor-sharp bite. The controls allow you to sculpt your tone into everything from the thick leads of 1970's classic rock to heavier alternative sounds of the 80's and 90's. All for the half the real estate of other brands.
Ok, enough with the jibber-jabbing already. The winner of the Outlaw Effects Five O'clock Fuzz is Hunter S. of Bayonne, NJ.
For those of you that did not win, despair not. We have more giveaways coming up in the next few weeks. So stay on the look out for what we are up to next and in the meantime, stop on by Pedal Finder – tell us about your favorite pedal and explore what we have to offer. And don't forget to check out Outlaw Effects if you haven't already. Like them on FB and follow them on Twitter.