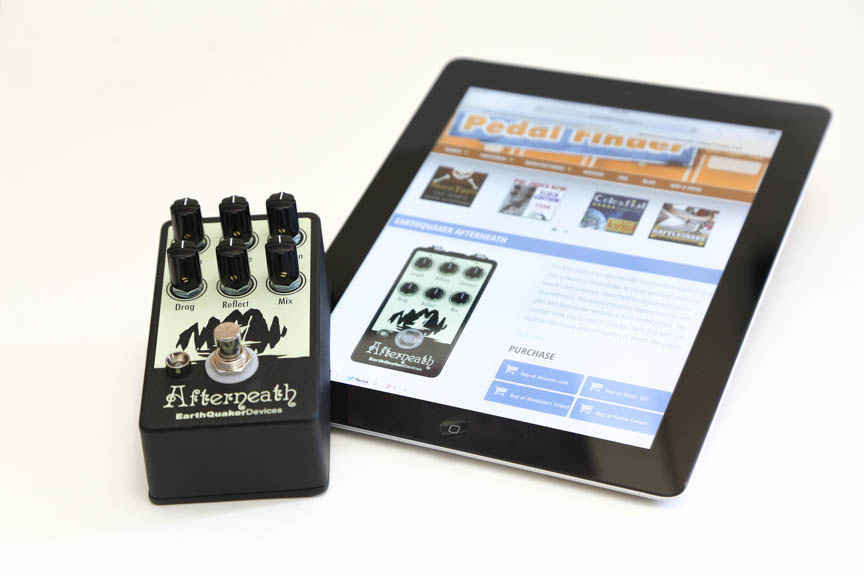 That's right. We've had a such a good response to this giveaway and so many pedals to get into the system that we wanted to give folks some more time to enter this contest and give ourselves a few more days to ensure we have all the new pedals and builders into the Pedal Finder Catalog. We are extending the giveaway until June 10th. So if you haven't entered the contest yet, don't fret – you still have time. If this is your first time hearing about our contest, then read on and learn!
Pedal Finder has teamed up with EarthQuaker Devices in order to giveaway one of their amazingly unique 'reverberation machines' – the Afterneath! Most folks have heard about EQD, a builder out of Akron, Ohio that has an extensive line of high-quality pedals meant to inspire. Their line up includes pedals such as: the crazy Arpanoid, which takes whatever you play and transforms it into an adjustable ascending or descending scale; the Disaster Transport Sr – a dual delay pedal with reverb AND modulation designed from the ground up to create an intense wash of lo-fi swirling tape styled echos; the ever eventful Rainbow Machine that gives you every tone but the one you expected and the highly popular Fuzz Master General – an aggressive, octave fuzz that is so fun to play. And that's why everyone is excited for this giveaway. Earthquaker makes a ton of great pedals and the Afterneath is a just another notch in their belt.
The Afterneath is a reverb pedal packed with a ton of control while at the same time not being overwhelming. Yes it has 6 knobs, but all of them are necessary to achieve the layered, tonal cacophony that this pedal produces.  The folks at EarthQuaker describe it like this: "The Afterneath is an otherworldly reverberation machine that uses a swarm of short delays to create wild and cavernous reverbs and scattered, short rhythmic delays with bizarre characteristics. The reverb created is beyond massive and goes well beyond the territory of most reverb pedals." They're not lying. To give you an idea of how the controls work, take a look below.
Length: Controls the decay length of the reverb.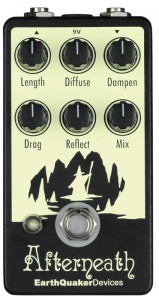 Diffuse: Adjusts the spread of the reverb. Sharper with more attack counter clockwise, more ambient and washy as you turn it clockwise.
Dampen: Clockwise for brighter tones, counter clockwise for darker tones.
Drag: This digital reverb is made up of a bunch of short delays, this separates the delay lines creating a stuttering, pingy effect. This is the coolest control on the Afterneath, we highly advise slowly turning this while you let notes ring out for a cool warped speed effect. More delay as you turn it counter clockwise, more reverb as you turn it clockwise.
Reflect: Controls the regeneration of the reverb, turn clockwise for more wash and echos, counterclockwise for less. This will self oscillate if turned up high.
Mix: Blends the wet signal into the dry. Though it does not actually go full wet, it will gradually lower the clean level as you turn it clockwise and give the appearance of full wet.
HOW TO ENTER THE CONTEST
This contest is super easy to enter and we want everyone to feel welcome even those members from outside the United States! This time we are looking for pedal reviews. If you've played a pedal at a store or on your board or on a buddy's board – leave a review and you will be entered into the contest. If you leave 6 reviews then you get 6 entries. It's easy, it's fun and your opinions go towards the good cause of letting other folks review before they buy!
The new date for the random drawing is June 10th at 2pm MST. We will email the random entry and they will have 24 hours to respond to the email to claim their new Afterneath. If the 24 hours pass and we don't hear back, we repeat the process until we confirm a winner.
IN ADDITION: If you like Pedal Finder AND EarthQuaker Devices on Facebook (and you win the contest) you'll also get a slew of bonus swag from EarthQuaker including a screen printed tote, a pound of special EarthQuaker coffee, a poster and enough stickers to officially declare your love for EQD wherever you go.  So it's a no-brainer — like Pedal Finder and EarthQuaker on Facebook and get even more free stuff if you win. We even make it easy for you by providing the like-links below! Good Luck! Have Fun!
And, here's a demo of the Afterneath  from Just Nick: