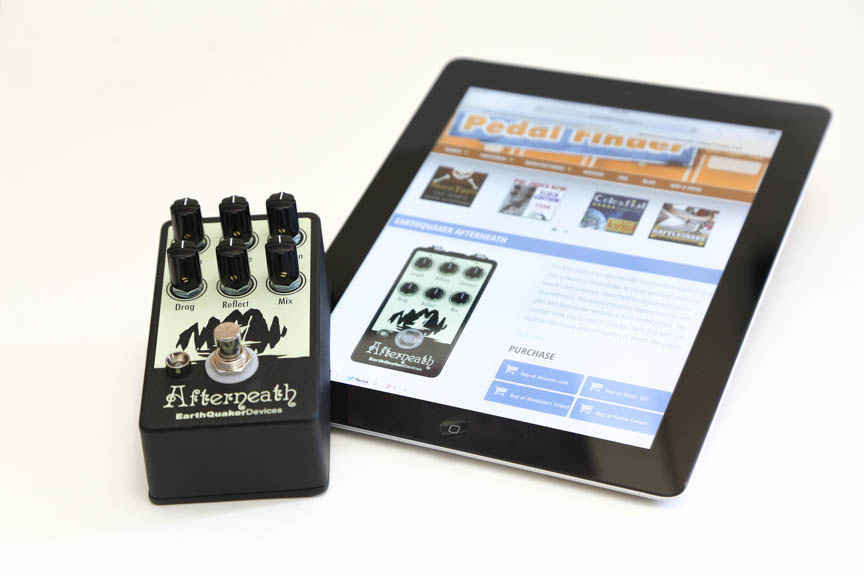 GIVEAWAY EXTENDED UNTIL JUNE 10TH!
It's been awhile since we had a giveaway here at Pedal Finder. The last one was in March when the good folks at Outlaw Effects offered forth a Five O'clock Fuzz. That was a lot of fun and now we are back at it again. This time Pedal Finder is super excited to announce that we partnered with EarthQuaker Devices in order to giveaway one of their amazingly unique 'reverberation machines' – the Afterneath!
If you're a guitarist and you haven't heard about the Afterneath, then let me be the first to welcome you to the internet. Take some time to look around. Once you've had your fill of cat GIFS make sure you come back, because you're going to want to enter this giveaway more than once! Seriously, this is a pedal that has received a lot of well-deserved hype. This is a 'none shall pass' type of stompbox.
What Is The Afterneath?
The folks at EarthQuaker describe the Afterneath like this:
"The Afterneath is an otherworldly reverberation machine that uses a swarm of short delays to create wild and cavernous reverbs and scattered, short rhythmic delays with bizarre characteristics. The reverb created is beyond massive and goes well beyond the territory of most reverb pedals. The controls allow you to stretch, smudge, swell and even self-oscillate into messy ambient washes of sound. The Length control adjusts the decay of the reverb; anything from shorter hall through endless plate style reverbs can be achieved. The Reflect knob controls the regeneration, basically feeding the output back through to create an even deeper otherworldly dreamscape. The Drag control lets you pull the reverb through time by slowing down or speeding up the reverb. The Diffuse knob adds control over spread of the reverb ranging from identifiable attack to a wash of smooth reverb. The Dampen control adjusts the tone of the reverb, both stinging bright tones and warmer swell. The end result is an ethereal, ambient wash that goes from hall to an infinite glitched-out orchestra pit warming up in a canyon at the bottom of another canyon inside a well. The Afterneath is true bypass with an all digital reverb engine, all analog dry signal path and hand made one at a time by real living human beans in dimly lit Akron, Ohio."
A reverb to the Nth degree, with a mass of controls to put tones inside of tones, all in a single-sized enclosure, makes for an exciting purchase and an even more exciting giveaway. This pedal has cross-genre applications and easily provides usable tones for just about any board out there. And it's just plain fun! The controls are laid out like this:
Length: Controls the decay length of the reverb.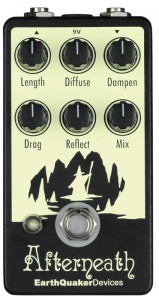 Diffuse: Adjusts the spread of the reverb. Sharper with more attack counter clockwise, more ambient and washy as you turn it clockwise.
Dampen: Clockwise for brighter tones, counter clockwise for darker tones.
Drag: This digital reverb is made up of a bunch of short delays, this separates the delay lines creating a stuttering, pingy effect. This is the coolest control on the Afterneath, we highly advise slowly turning this while you let notes ring out for a cool warped speed effect. More delay as you turn it counter clockwise, more reverb as you turn it clockwise.
Reflect: Controls the regeneration of the reverb, turn clockwise for more wash and echos, counterclockwise for less. This will self oscillate if turned up high.
Mix: Blends the wet signal into the dry. Though it does not actually go full wet, it will gradually lower the clean level as you turn it clockwise and give the appearance of full wet.
Who Is EarthQuaker Devices?
Jamie Stillman is the idea man behind EQD. Like most builders, Stillman started out building pedals for friends and quickly turned to making pedals for those he didn't know as well. That was in 2004. By late 2006, early 2007 he had his first pedals up for sale on the internet and things just took off from there with early productions of his more famous pedals. Marketing in those early years took place on forums and it wasn't long that word of mouth made EarthQuaker a growing success.
Now Stillman and his crew have a growing line of over 35 pedals that have brought a ton of accolades. Pedals like the new Fuzz Master General, the Bit Commander, the Arpanoid and the Disaster Transport just to name a few. Honestly, EarthQuaker has a serious 'Midas touch syndrome' going on that other builders are spending their days working towards. They also have really cool T-Shirts.
What Does It Sound Like?

It sounds like this:

How Does The Giveaway Work?

As with all our giveaways this one is easy to enter. This time around, you don't need to submit new pedals, artists or videos. Instead, we are looking for your pedal reviews. Every review you submit will get you one entry to win the Afterneath. What can be easier than looking down at your board and telling the world what you think about what you have on it? And, what about those pedals you got rid of? Let everyone know why it is no longer on your board and why it was replaced. You can do all of that at Pedal Finder. Just look for the pedals you have, visit the detail page and leave a review. It's that easy!
On May 27th at 2pm MST we will pick a random entry. We will email the random entry and they will have 24 hours to respond to the email to claim their new Afterneath. If the 24 hours pass and we don't hear back, we repeat the process until we confirm a winner.
This contest is open to everyone – even our visitors outside the United States. Don't forget that you can enter multiple times. Review as many pedals as you've played. Did you run out of pedals to review? Get on down to the store and demo some and then come and tell us about it. Again, this specific giveaway is going on until May 27th (Wednesday) 2PM MST.
IN ADDITION: If you like Pedal Finder AND EarthQuaker Devices on Facebook (and you win the contest) you'll also get a slew of bonus swag from EarthQuaker including a screen printed tote, a pound of special EarthQuaker coffee, a poster and enough stickers to officially declare your love for EQD wherever you go.  So it's a no-brainer — like Pedal Finder and EarthQuaker on Facebook and get even more free stuff if you win. We even make it easy for you by providing the like-links below! Good Luck! Have Fun!