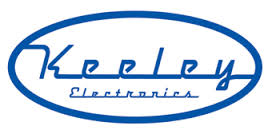 Keeley had some fun announcements in the last few weeks that we need to catch up on. The first was about their new Fuzz-Verb they dubbed the Sojourner, a pedal that Sonic State is calling the 'Ideal Pedal For Shoegazers.' The other pedal that is going on sale today is the DynaTrem, a multifacted, dynamic tremelo that responds to the way you play. Let's take a quick look at both.
Mixing fuzz and reverb together, the Sojourner hopes to fatten your sound and take you to new places in your tone. Keeley describes the pedal like this, "The Sojourner contains a thick, creamy fuzz coupled with an all new set of musical reverbs soundscapes in a dual pedal format.  Chief engineer Robert Keeley put his team to the task of creating a first-in-class fuzz/reverb pedal that would allow players to create dreamy soundscapes of texture, color, and emotion with unique and innovative reverb sounds not heard before. The fuzz side of the Sojourner is our popular Psi Fuzz, a highly modified take on the Op Amp Pi. Keeley's layered op amp based fuzz has the added warmth and cream of a vintage germanium transistor output stage. It produces thick, full range fuzz with enhanced midrange presence, tight bass, and an overall polish and compression that creates perfect fuzz tones right out of the gate.
The reverb side of this pedal is based on the Aurora Reverb platform, but with new algorithms including reverse and shimmer.  Reverse reverb gives you a crazy hallucinogenic, hide and seek playfulness to the echoes.  Shimmer reverb provides a eerie decay of high octave trails.  Adjust the decay, blend, warmth, to choose between long, expansive, ambient times or to create a subtle new space around your sound."
With all the fuzz and verb going on, it's clear to see why it might be seen on a few shoegazer boards out there. But really, why let shoegazers have all the fun? This pedal has plenty of cross genre applications and coming from Keeley, you know the tones are going to be awesome. The demo looks like this:
The purpose of this pedal is not lost in the name. It's a new take on the tremelo that gives you the power to control the tone based on how you play. It comes with three modes of control and Keeley explains it like this: " The DynaTrem Dynamic Tremolo… is an all new type of tremolo that is dynamic and responsive to your playing.   Your playing controls the Rate and Depth.  The harder you play, the more it responds.  Play softly and it relaxes.  Set the sensitivity with Rate or Depth controls and you have an unparalleled ability to be expressive with your guitar and tremolo."
The three modes are:
Dynamic Rate – Your playing strength controls the Rate.  The harder you play, the faster it modulates!  Relax and play softly and the tremolo almost stops.
Dynamic Depth – Play gently and it just barely throbs.  Play aggressively and it and pulse hard and deep.
Harmonic Tremolo + Reverb Mode.  Yes that phaser/vibey, soulful and sweet sound!  We have crafted our own circuits to give you a sound that is sinfully good.  Slippery and smooth, you won't want to gig without it. Add Reverb by adjusting the SHAPE control
Imagining the uses for this pedal is a little daunting for me. Although I can visualize how the controls work, this is one that you wont really understand/appreciate until you get behind the wheel. So you're definitely going to want to get down to your local shop and see if they have one to demo. Hearing a pedal in a demo is one thing. Hearing a pedal that responds directly to your own style and strength of strumming is completely another. Regardless, we'd be remiss without letting you hear a demo.
So that's it for the new Keeley Releases, pretty exciting stuff. Don't forget that we have a giveaway going on right now for an EarthQuaker Afterneath. Every time you review a pedal at Pedal Finder you gain an entry into the contest. So, if you happen to order one of these Keeley's – make sure you review it and you might just end up with an Afterneath as well!