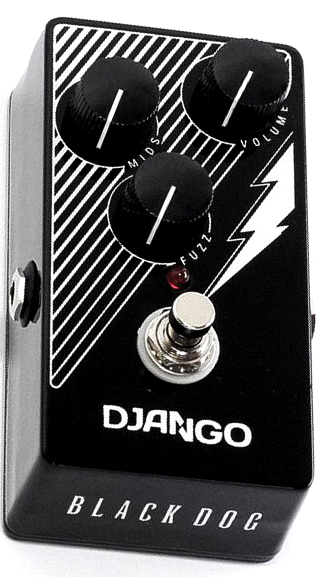 Wow! Lots of folks are getting in their pedal reviews and getting entries into our EarthQuaker Devices Afterneath Giveaway. I'm finding out that the best part of doing this contest is learning about all the new builders I haven't heard about up until now. As a side note: If you've put in a request to have a pedal added and it hasn't appeared yet, don't fret. We are working on it. We are just getting a flood of new entries and we need to make sure that all of our information is accurate before it goes live. Lots of 'work' to do to make it all look good and be true!
Today I ran across a pedal add request for the Black Dog by Django Pedals. These folks are building effects out of Montes Claros, Brazil. As such, if you only speak/read English, you'll have to use the Google Translator to get the inside scoop on their three offerings. Of course, demos speak a language we all understand, so if you want to hear about the pedal instead of read about it — look below.
Anyways, as we mentioned, they have the Black Dog – which is a fuzz that was made to stand on it's own. This isn't a fuzz that was meant to take some preexisting circuit and add or subtract to it. This is a fuzz created of it's own accord. According to their site (translated) they say they wanted, "to create a fuzz with a new tone that worked well with humbuckers and single pickups. We knew that our fuzz would have a gain that was fully configurable using only the volume control of the guitar. It would have a good amount of volume to saturate a tube. It would work well in transistor amplifiers and have a good response frequencies in both stratocasters (singles) and with Les Paul (humbuckers). Finally, it would be good for both soloing and for bass guitars." According to some of the reviews I've seen — they've done a good job of accomplishing this goal.
They have two other pedals in their lineup: the Get Back – a delay pedal and the Thunderstruck – an overdrive. If you have seen or played either of these pedals let us know and in the process get a chance to win an EarthQuaker Devices Afterneath. Here's a video of the Black Dog in action: