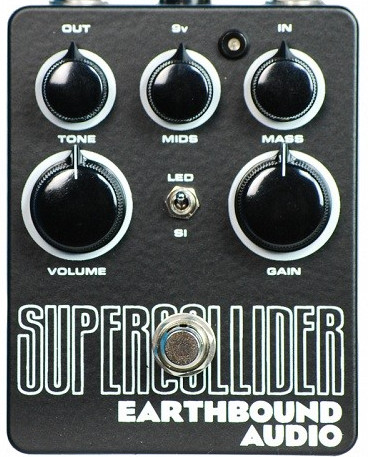 If you look at Tone Reports 2014 list of Best Dirt Pedals For Stoner Rock, you'll find a cadre of pedals meant to pound out the heavy whirling dirges of that genre. In that list you'll of course find pedals like the Big Muff and the ProCo Rat as well as the Boss Hyper Fuzz and the Faustone Valve Clipper. Also in this list you'll find Earthbound Audio's Supercollider.
The Supercollider is based on the Muff circuit, which is why it hangs out in the same lists as Mr. Big. It's base tone consists of a wide, laid out low end, but the 4 knobs Earthbound gives you to play with open the pedal up to a whole world of scooping and depth control that let you take it from crunch to wooly and everywhere in between. It seems to have multiple lives in one, burly case and from the reviews on the web, people enjoy having it on their board.
Earthbound is a bit of a mystery. They have a website you can visit here and they do have a Facebook Page, but none of their About information is filled out. I can't find any interviews and I don't even know from what part of the world they hail. I do know that besides the Supercollider, they also produce the Iron Pig (based on the classic 80's LM308 op-amp distortion sound), the 71 Supercollider (again based on the 70's Muff circuit), the Pale Mare (a silicon fuzz based on the Japanese Roland Bee Baa) and the Beast (the Supercollider's drugged out alter ego). See all of these great pedals at Pedal Finder.
Here's a taste of what the Supercollider can do: