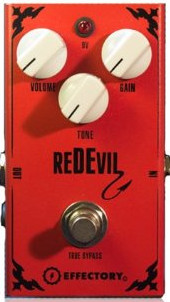 Had the pleasure of running across a new builder, submitted by a member looking to take home the EarthQuaker Devices Afterneath that we have up for giveaway right now. If you haven't submitted at least one pedal review to take home this prize, you still have some time, but don't put it off, because it ends in 7 days. You can get into the action by leaving reviews of the pedals on your board. You can learn more about the contest here.
Anyways, the builder I just ran across is called Effectory. They are a smaller builder from Israel and according to their Facebook page they've been around since about January of 2011. From what I can find on their Website and various reviews, it looks like they have one pedal. It's a distortion called the ReDevil. According to reviews, the ReDevil is a distortion after the hearts and minds of those into pure rock and roll. It's a screamer with a balls to the wall type of tone that can punch through the muck and mire of a live gig. It can also be rolled back for a more modest, sympathetic growl if your into that sort of thing.
The whole package comes in a road ready case in 'the devil may care' red. On the side you'll find the roman numerals 'VIVIVI' just in case you don't pick up on the general theme. The controls are basic distortion with volume, gain and tone, but the pedal is anything but mundane. You can get the whole deal for $350 off their site. Since they are now in the Pedal Finder catalog, you can learn all about the ReDevil here and see if there are any deals around the web.