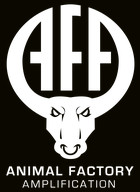 New builders are coming into the catalog everyday. It'll take us a while to get them all rolled out and looking good, but we'll stick with it to make sure we everyone covered. Recently we ran across Animal Factory Amplification. According to their FB page, "Animal Factory Amplification builds terrifying, irreverent and beautiful guitar pedals and amps, among other things, in Bombay, India." The fearless leader of this builder is named Aditya. He studied engineering in Germany where he was taught art of PCB design and the physical complications surrounding analogue signals. He moved back to India and started designing and building effects and vacuum tube amplifiers, sometimes building them on order. As an added flourish, he decided to etch all his pedal enclosures – giving these effects a really fun look.
On the Animal Factory website, you'll find 6 month old posts and not a whole lot of updates, but their Facebook page is going strong, so head over there for up to date news. On the site, you will find mention of three pedals. The Chemical Burn, the Ozymandis and the Claustrophobia. The Chemical Burn is their flagship fuzz pedal, the Ozymandis is their overdrive pedal and the Claustrophobia is an asphyxiated, squelchy, uneasy fuzz, the is prone to panic attacks. Having started in 2013, they are obviously going strong with 3 pedals in under two years.
You can check out all these pedals at Pedal Finder. If you happen to own anything from Aditya, please leave a comment. We'd love to learn more about this builder out of Bombay. In the meantime, here's the only video I could find demonstrating one of their prototypes. It's a Nebulophone circuit from Dr. Bleep.