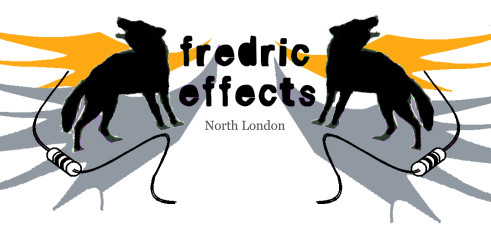 The new builder of the day is Fredric Effects. This is a group out of North London, England. According to their website, all their effects are hand-made with care. They take great pleasure in creating boutique quality effects without excessive boutique price-tags. Their whole take on effects development is that they like stuff small, simple and 'as fuss-free as possible.' Great sounding effects, high-quality components, moderately sized with simple controls and great artwork. Thus reads the motto of this London builder.
On their site, I counted 17 pedals in their lineup. It's a wide array of effects with pedals like the Harmonic Percolator (their take on the Interfax Harmonic Percolato made famous by Steve Albini of Shellac), the Unpleasant Companion MKII (an improved version of the classic Shin-Ei FY-2 Companion Fuzz), the West Germany Vintage Tremolo (reworking the classic West German pedal, with a neat MXR-sized enclosure) and the Golden Eagle (boutique overdrive). They point is they have a wide array and the best part is that these pedals really are priced to sell. Most of their pedals are under the $150 mark.
I stumbled across these folks from an article on Premier Guitar about the announcement of a new pedal of theirs: The Foxrite MKII. According to their website:
The Fredric Effects Foxrite is a modernised version of the late 60s Silicon Mosrite Fuzzrite. It is an exact reconstruction of the original circuit, improved with the addition of a boost stage to bring the volume up to modern expectations. The Foxrite is a uniquely abrasive effect – offering sounds from garagey distortion to full-on octavey, velcro-ripping fuzz.

The Foxrite MkII features a central slider switch, labelled 'Rite' and 'Rong'. This adds greatly to the versatility of the effect. The 'Rite' setting is the vintage correct Fuzzrite circuit, whereas the 'Rong' mode is another popular variation on the Fuzzrite. In this mode, the two gain stages of the circuit are kept in series, and the 'Depth' control acts more like a conventional tone control – from doomy bass to raspy, spitting treble.
It really sounds like a great pedal, so if you see one around, take the time to plug it in and let us know how it sounds. Here's a demo we found in case you never get the chance! Afterneath.