Boss has a really neat deal going on right now that I thought I'd spread the word on. The deal is pretty simple: if you purchase an OD-1X Overdrive or a DS-1X Distortion you will get a free Pedal Juice from Roland.
Everyone who's played guitar knows about the original, iconic OD-1 and DS-1: Mr. Yellow and Mr. Orange. The OD-1X and the DS-1X are the modern version of these pedals, expanding on the circuit in ways that only 35 years of pedal design can teach. Seriously, 35 years of pumping out effects. Regardless of what side of the fence you fall on in terms of boutique VS corporate – playing a pedal with 35 years of knowledge jammed into it something special. So I for one am optimistic when Boss tells me that it will change my thinking about overdrives forever.
Boss describes the OD-1X like this:
The OD-1X delivers overdrive unlike any pedal ever made, with an all-new dimension of sound quality, clarity, and tonal range. Thanks to BOSS' magical MDP technology, every note on the fretboard sounds flawless, with fat tones when riffing leads and a smooth, transparent grind when playing chords. At every setting, you're welcomed with wide-range sounds and a complex, refined presence that's both cutting and smooth. The sound character and overdrive amount naturally follow your picking dynamics, putting a world of subtle tonal changes under your fingers. When playing through the OD-1X, the tone is so big, bold, and responsive that you'll soon forget you're plugged into a compact overdrive pedal.
And they have put in just as much love, sweat and years into the DS-1X, a distortion pedal with "next-generation sound, feel and tonal response." Because the look of the enclosure on these is so similar to their early ancestors, I can imagine that plugging into these upgraded versions is akin to getting into a 1981 DeLorean and realizing it's a time machine that takes you to 2015. A surprise that is not unwelcomed.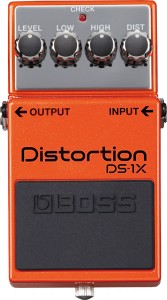 The specific upgrades to the pedal include the use of Boss' Multi-Dimensional Processing (MDP). This technology allows on-the-fly processing of your live playing. Essentially, the pedal examines
the audio signals from your guitar, chops these signals up into their respective frequencies and processes each individually to give you more tonal control. All of this works with the same 4 knobs they've always had, so they must just apply different algorithms to each signal section individual as the knob is turned. It's pretty heady stuff, distilled down into easy to operate pedals.
As if you didn't need a reason to try one of these on you board, Boss is going to sweeten the pot with a free Pedal Juice. If you don't know, the Pedal Juice is a power supply that can provide "up to 50 hours of continuous, quiet, clean, stable power" for a 10mA effects pedal. Stable is the key word here. I know lots of guitarists love to run their pedals underpowered (Dead Bat anyone?), but stable power is important for those who like to run their pedals the way they were meant. A power supply like this keeps your tone consistent and also limits AC ground loops.
Other positives include two 9V DC outputs that allow you to power multiple devices/pedals along with the ability to recharge the device hundreds of times over. It takes about 3.5 hours to recharge from dead to full with the included AC adapter. All of this taking up the same space as a single sized effects pedal. Pretty awesome.
If you've been on the fence to pick up either the OD-1X or the DS-1X, then I think BOSS just provided you with the push you needed to jump in with both feet. If you do end up picking up one of these pedals make sure you leave a review at Pedal Finder. Both the OD-1x and the DS-1X are retailing on Amazon for $149.00, but make sure to check here so you get the full rule set on how to get your free Pedal Juice.
Here is a demo of both pedals by Pete Thorn: