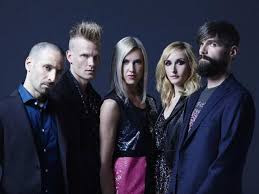 Mother Mother is a band that originally hailed from Quadra Island off the coast of Vancouver, British Columbia – which, as it happens, is now the place that they are calling home. Although most commonly associated in print as an indie rock band, they are so much more than that genre. I should admit before I go any further, that I'm a huge fan of this Canadian group of artists consisting of Ryan Guldemond on guitar and vocals, Molly Guldemond on vocals and keyboard, Jasmin Parkin on keyboard and vocals, Ali Siadat on drums, and Jeremy Page on bass. So imagine my surprise when Mother Mother showed up at our local venue – Stage 112 – here in Missoula, Montana and performed a full-on stadium sized show to about 60 people.
I was a little afraid that a band used to playing to much larger audiences might be a little put-off to play to such a small group, but they attacked their songs with all the gusto of a big show, taking the energy that our small but dedicated throng gave them and returning it in kind. They were gracious and playful while delivering a full set complete with a memorable encore. To give you an idea of what the show was like, here they are at Sasquatch about two weeks before showing up in Missoula (shoot to the 4 minute mark to hear a cool version of Hayloft):
Not only was it exciting to see the band live in such an intimate setting, but it was also an opportunity to check out their pedalboards. So after the show I waited til the small fray dissipated and approached their backline technician Andy M. Hodgson of AMH Backline. Although obviously eager to get the bands gear broke down and packed up, he let me onto the stage to take a few shots of everyone's gear and even spent some time running me through their setup. Ryan's board and rack looked like this: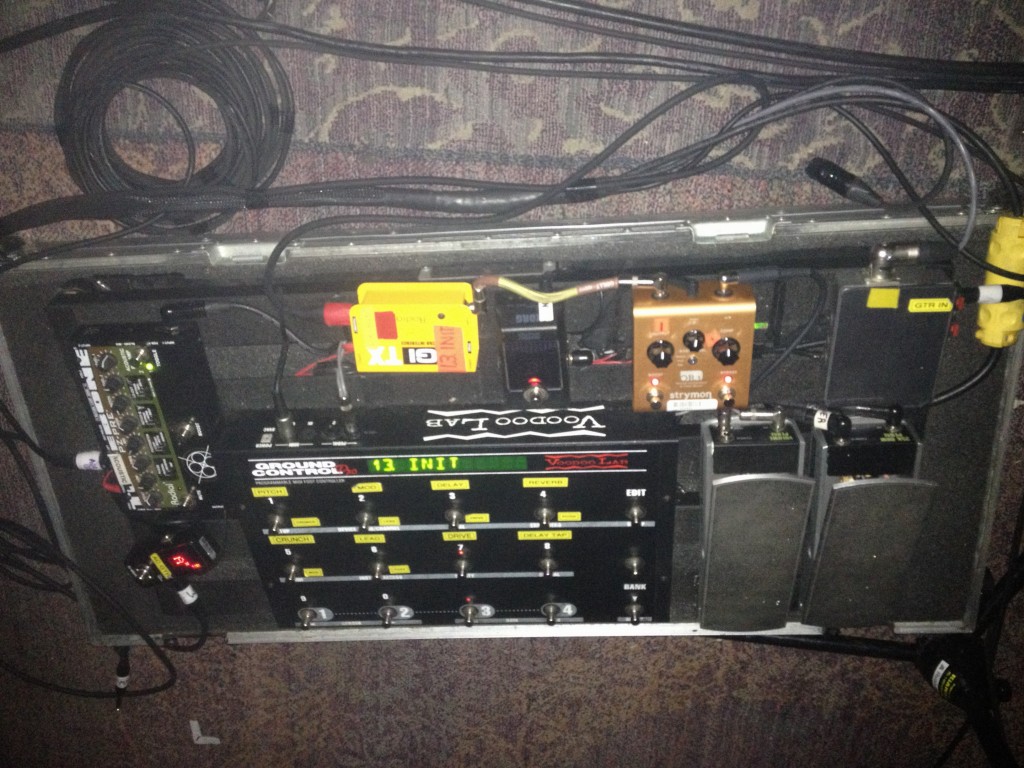 From the left we have:
Radial Engineering Tonebone PZ-PRE Acoustic Preamp
VoodooLab Ground Control
Korg Pitchblack Chromatic Tuner
The yellow box is an SGI (Studio Guitar Interface) from Radial Engineering. Basically it acts as a buffer and isolator all in one. It works by taking your guitar cable (which is high-impedance) and switches it to an XLR (low-impedance) over the course of the cable run. At the other end of the XLR is the other yellow box that switches it back so you can go to your rig. In this case, the SGI leads to this:
ISP Technologies Decimator Noise Reduction Pedal
Which then leads to this: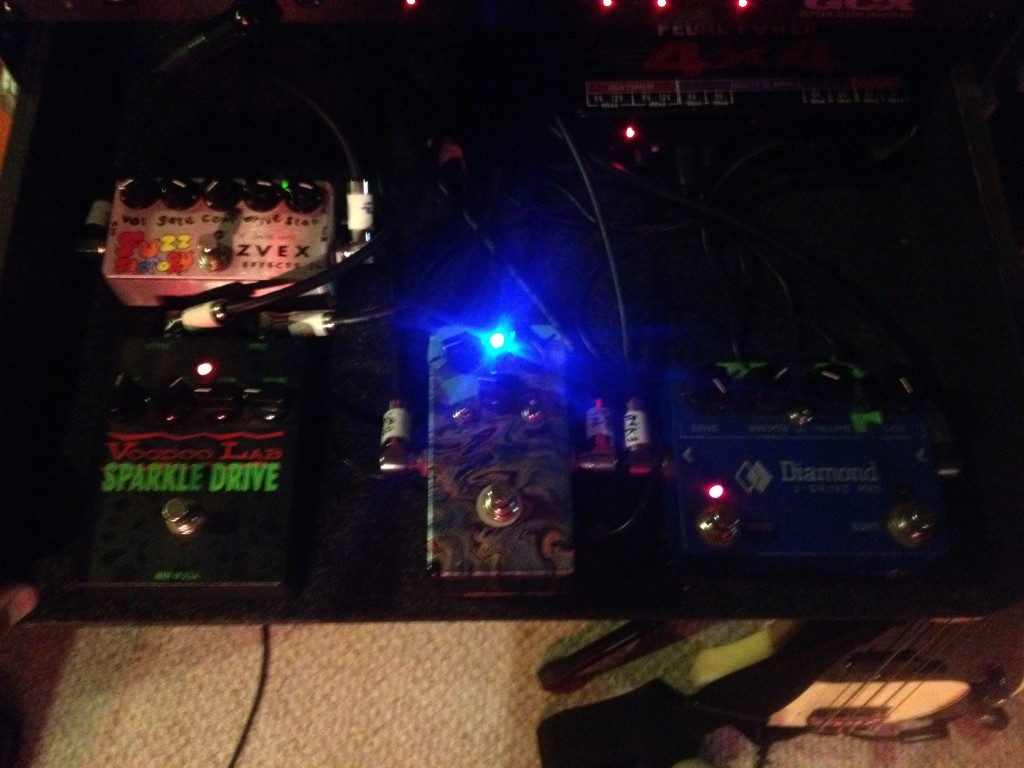 Rockbox Boiling Point (alternate graphics)
That's it for Ryan's pedals. On to Jeremy, who not only has a pedalboard for his bass, but also for his keyboard. We'll start with bass first: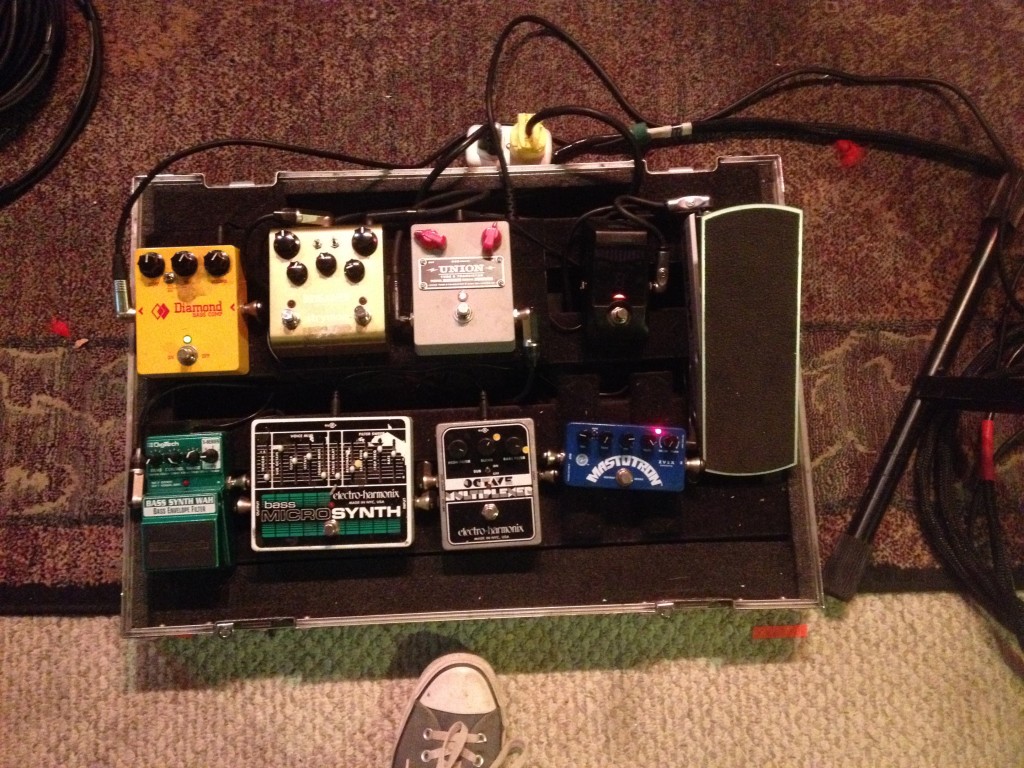 Diamond Compressor
Union Tube and Transistor Sub Buzz
Korg Pitchblack Chromatic Tuner
Digitech Bass Synth Wah Envolope Filter
Electro-Harmonix Bass Micro Synth
Electro-Harmonix Octave Multiplexer
For his keyboard he has a whole other pedalboard that's pretty simple and to the point: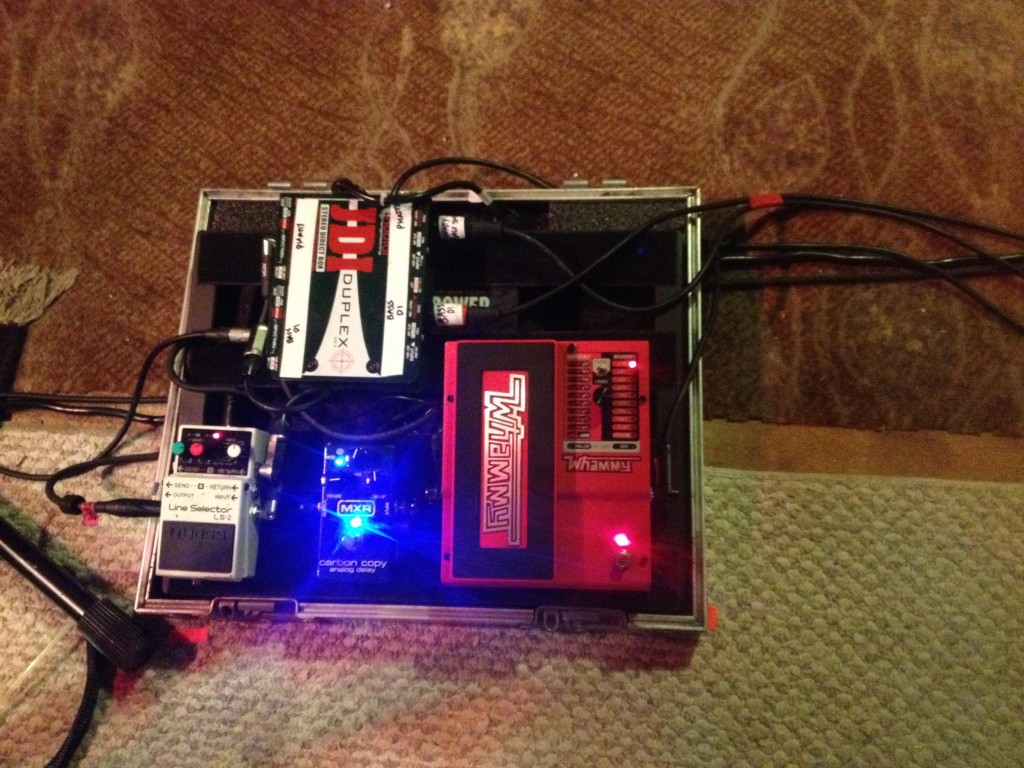 Boss LS-2 Line Selector
If you want to hear all this gear in performance or learn more about Mother Mother, be sure to check out their website and stay up to date with them on their Facebook Page. And, let us know about your own Mother Mother experience!