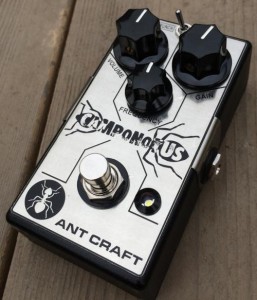 Helsinki, Finland is a fairly big coastal city with a rich history and plenty of attractions to see and a whole mess of activities to take part in. Recently, we discovered Ant Craft – who are stationed in Helsinki. These folks (or person?) have spent a great deal of time working up to their first pedal, the Camponotus. It's not that their lazy, far from it. Instead, they've been experimenting with different iterations of their new, beloved pedal. Even after the insides where all hammered out, they began work on the exterior. Inviting the comments of guitarists and builders. What did they like? What did they hate? The folks developing the Camponotus took it all into consideration before they finalized their product.
Here is what they have to say about the end result:
The Camponotus is build using low noise op-amps with bi-polar supply, so pedal can work in a full gain mode. Also in all internal stages we use high quality Japanese capacitors and film resistors. All this details give unique tone and sound character of the Camponotus. The pedal has a booster and a high gain. It gives possibility to crunk up any channel of your guitar amplifier.  At lower gain settings it cleans the signal and by turning the gain up, the Camponotus can vary from "bluesy" overdrive to almost high gain distortion. The Camponotus is also good in cooperation with other pedals and can be used as a "warmer" for your drive pedal.  You get the thick drive and can generate your own individual sound.
What's interesting about this pedal is that it's in a wooden enclosure with a laser-etched face plate with unbelievable detail. I'm assuming the faceplate protects the pedal from damage that might come from playing, but still, choosing a wooden enclosure is a bold move that few builders have engaged with. It might be this special enclosure that has the price of the boutique pedal around the $200 mark. Or it could be the amazing sound and versatility that's coming out of this thing. Both are worth the price.
 In terms of feedback, a review on tonereport.com says they liked the, "ability to go from transparent boost, to Brit-bite and then all-out classic rock crunch-and-sear, ensures that the Camponotus can adapt to any rig and prove useful in a variety of situations. Add to this the stacking prospects with other drive pedals in the signal chain and we got ourselves a real master of many trades. The classy wooden box and plush pedal bag only add to the top shelf experience."
Do you have a Camponotus on your board? Leave a review at Pedal Finder and let us know if the folks from Finland nailed it or not.