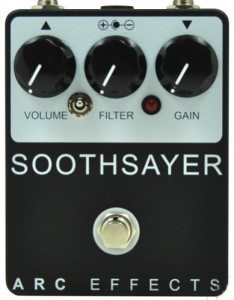 Upstate New York is the home to a lot of great places. Let's just start with the great outdoors. Nothing gets better than the Adirondacks, except maybe a trip to Niagara Falls. If the outdoors are not your cup of tea, then maybe visit one of the many still existing drive-in-theaters, or better yet, visit one of the many summer festivals going on such as NYS Blues Fest, the Syracuse Jazz Fest or perhaps a concert. If you do happen to see some music while travelling around, keep your eyes open and you just might see pedals from local builder Arc Effects.
We just added Arc Effects to the Pedal Finder family and we are glad we have, because we are seeing really positive comments about their unique line of pedals based on earlier, popular models. Their mission is to "to bridge the gap between old skool quality and service and new school features and functionality." A noble goal, but not one that is easily achieved. However, looking at reviews of their effects over the last several years it's clear they've created some well-loved circuits.
Gilmourish.com ended a review of the Soothsayer (based on the LM308 chip) by stating, "I've always been a huge fan of the RAT and the Soothsayer is, in my very honest opinion, by far the best take on the classic pedal." Being picked as a favorite by anyone – especially folks with more than a passing interest in guitar tone – is a resounding bit of admiration.
Over at Proguitarshop.com their Klone V2 (based on the….you already know) gets mostly 5 stars on numerous reviews with statements such as, "This gives me the Warren Haynes type of tone I've been looking for" and "with the Silver Centaur as the benchmark, this [Arc Effects] Klone is warmer sounding to my ears than the KTR."
Harmonycentral.com has reviews of the Big Green Pi (Russian Muff spinoff) saying, "the Big Green PI passed the sound test with flying colors.  It killed it point-blank actually…it plays well with others….definitely a team player, even with the wah pedal."
From ilovefuzz.com you have a reader that gushes, "It rules. it'll brighten up any fuzz you put after it, it'll take your dark amp and brighten it up, you can boost the hell out of your amp with it. It can be clean, it can be a little hairy around the edges. It gets LOUD. I still hold a special part of my heart close to the Gamut." Wow, ok.
Beyond these review snippets from around the net, we also stumbled across a proclamation from folks at thegearpage.net talking about how the physical circuitry is clean, tidy and art-like in its installation. One forum member said, "Whenever there is a gut shots thread this guy's pedals take first prize.. so clean, so pretty." Another just posted this picture as proof: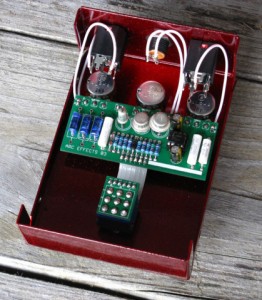 Looks pretty good!
Our point is simple. If you haven't checked out Arc Effects and what they have to offer. Do so. And please, if you own some of these pedals leave a review here at Pedal Finder so we don't have go traipsing all over the internet for information. We'll all thank you! Here's a demo of the Soothsayer from our favorite reviewer Just Nick: