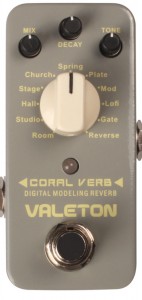 Recently ran across this builder called Valeton Effects – which I think is working and developing out of the UK? This is a group that's making micro-pedals they are calling the Mini Monsters. Their mission statement states their goal is "to capture the essence of the music-making experience through user-friendly gear. We want to see musicians plug in and get that great, high feeling of playing music, and we are dedicated to making that available for beginners and professionals alike." So their intentions are pure and their pedals seem to live out this mission in the way each pedal is laid out.
Most every pedal they have in their line has 4 or less knobs -each with easy to understand functions. You won't find an inch thick manual attached with each of these boxes, but what you will find are ready to rock pedals with a variety of tones and control right out of the box. How many pedals? Well, it looks like they have their standard line of pedals bringing to life vintage sounds and then they have their Coral Series, which appears to be after more modern, digital tones. They run the full gambit in terms of effects – covering all the bases. What's more, they have a price point right around $50 (their reverb and modulation pedal are running about $80, but these pedals always have a higher cost). This is what we just added to the Pedal Finder catalog.
Coral Verb: Digital Modeling Reverb
Coral Echo: Digital Modeling Delay
Tube Engine: Vintage Overdrive
Aquaflow Vintage Analog Chorus
Tube Refiner: Modern Overdrive
As always, let us know what your experience with these pedals are. Leave a review at Pedal Finder for the ones you've played.
Here's a demo of all the pedals in their Coral Series to give you an idea of what these boxes are capable of.