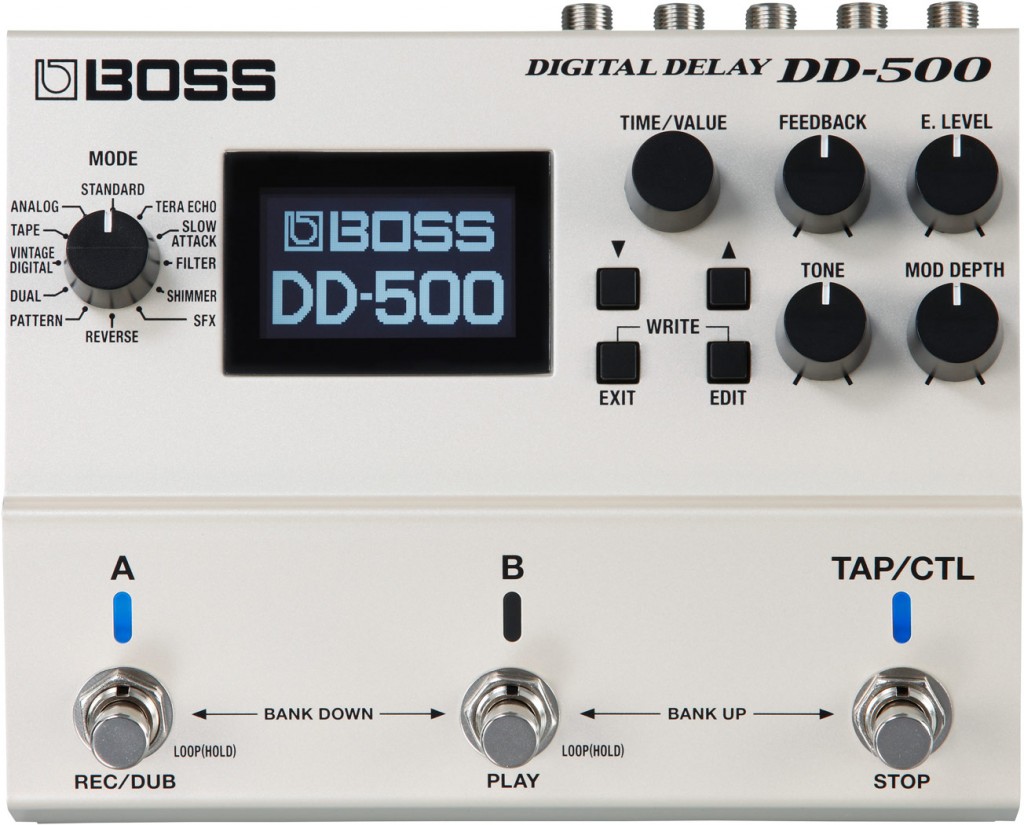 One of the most glorious times of the year for gear lovers is Summer NAMM and it's just about started. If you are anywhere near Nashville, Tennessee you might want to stop by NAMM and see what's on the shelves. The convention – primarily for manufactures and dealers- is going on from the 9th to the 11th this year. Some of the first specs of information pertaining to new gear was a release about two new pedals from Boss: the DD 500 and the RV-6.
The DD-500 is a digital delay pedal with a boat load of controls. It has 12 delay modes total, all of which can be micro-managed with the knobs provided. The modes include a mix of digital, analog and tape echo settings. It can also do pitch-shfited, dynamic and filtered delays and has a rack unit emulation in the vein of the Roland SDE-2000 and the SDE-3000 units. And, of course, it can do a pretty mean DD-2 when you need it.
The RV-6 is a reverb that comes with 8 reverb types (perhaps the RV-8 would have been more fitting?) This little pedal can do standards room, hall,
plate and spring, plus modulate, dynamic, shimmer and reverb+delay. And, there is a bit of magic in this pedal. When you are adjusting the controls you are actually moving multiple parameters inside the box for an overall tone change. Seems like it's not just a one to one ratio of adjusting around the tone knob. Instead you are actually controlling a logarithm that moves the entire landscape of the tone for predetermined reverb control – although I'm sure you still have the ability to find the ultimate tone you want. Sounds more like they are trying to keep the quality of the sound complete. Other than that, the pedal operates in stereo, you can get a 100% wet sound through the B input and it can be controlled with an expression pedal. Can't wait to hear the reviews on this one.
So take a peek at what Boss has in store with these pedals and let us know what you think by leaving a review on Pedal Finder. Here are some demos:
BOSS DD-500 Demo
BOSS RV-6 DEMO