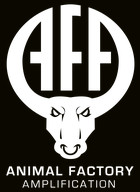 Back in Mid June, we did a write up on a builder new to us: Animal Factory Amplification. We honestly didn't know a thing about this builder, but doing online research showed us that the owner/builder Aditya Nandwana was a powerhouse of passion and knowledge working out of Bombay, India. Aditya studied engineering in Germany where he was taught the art of PCB design and the physical complications surrounding analogue signals. He moved back to India and started designing and building effects and vacuum tube amplifiers, sometimes building to order for musicians in need. Wanting to compete in a heavily saturated market he also understood that not only would his pedals need to sound otherworldly, but they would need to have an aesthetic appeal beyond the norm. Animal Factory Amplification is the realization of that desire.
His boxes are inventive with a nod to the past and hint at what the future brings. Check out this description of his pedal line from Distortion Pedal HQ's Winter NAMM 2015 report.
Witness the glory that is Claustrophobia; a panicky, breathless fuzz with a foot or CV triggered feedback loop. Ozymandias; a drive pedal to rule all others, as a dual voiced, stackable overdrive. And Chemical Burn; a Vicious Octave-Up Fuzz, which is a sizzling take on the Superfuzz Circuit.
Those are all the adjectives I'd like to have associated with the pedals adorning my own board. But, Aditya is clearly more than hip circuits and artful enclosures. If the following interview shows you anything it's that Aditya Nandwana is following a path, one step at a time, towards building a long term relationship with musicians through his pedals. His love of electronics is only outdone by his love of food, music and friends. This isn't just a builder to watch out for, this is a builder to support.
So take a peek at the interview below and get to know more about India's own Animal Factory Amplification and the world of Aditya Nandwana.
How did you start designing/building pedals and when did you decide to start selling them to other people?
My first guitar was gifted to me for my 18th birthday. I wanted big, fucked-up, nasty sounds from the beginning, so I researched the roles that pickups, pedals and amplification played in getting them. Unfortunately, the choices for guitar gear we had in India back then were limited, crap and expensive, propelling me to look into pedal DIY.
The first effect I ever built was Aron Nelson's "Hornet" fuzz with the help of a close friend. It worked for one or two glorious seconds and then died in a most anticlimactic show of crackles, pops and silence. Those two seconds triggered the obsession.
The brilliant Warren Mendonsa a.k.a Blackstratblues (you need to listen to this guy play) gave me my first commissioned work in 2002; my attempt was earnest, but the final product sucked. I kept at it though, building guitar circuits through university, but it was only in 2009 that I started building stuff very seriously.
Musicians saw my etched finished pedals and word got around, so I started taking on custom orders for pedals and amps to fund the addiction. At some point, I got fed up of mediocre requests for clones of existing pedals and the idiotic lowball offers that accompanied them and took a hiatus from it all in early 2011.
I dusted off the circuits in 2013 and I decided to launch AFA as a product-oriented brand. My friends Ritesh and Nirali of designaren were a huge help – from design aspects to pushing me to start, improve and think bigger, I run pretty much everything AFA by them today.
What does a visitor see when they come to your shop? Do you work with others or is every pedal a solo mission?
I don't have a shop right now or sales revenue to cost-justify paying for the exorbitant real estate in Bombay – it's usually people dropping in on me at home, or me taking my stuff over to them. I hope I have a very different answer for you in a year!
At the moment, AFA is only me. Some time/labour-intensive activities are outsourced to professionals – soldering and drilling, for example. I'm not equipped for lead-free (for future-proof RoHS compliance), my hands aren't as steady as theirs etc.
Are there any local Bombay bands that you think our members should know about?
Not too many, but here are the few that stand out:
My friend Sid Basrur is a very talented vocalist and guitar player, having sung for progressive post-hardcore band Goddess Gagged (currently on hiatus) and local legends, the post-/hardcore band Scribe. The latter features synth fiend Akshay Rajpurohit on guitars, who is also making waves with his solo project Aqua Dominatrix.
If you like it heavier, Sahil Makhija's extreme metal band Demonic Resurrection has been the flagbearer of Indian metal – through sheer resilience and perseverance, he's shrugged off the haters and played alongside bands like Cannibal Corpse.
Outside of Bombay: the F-16s from Chennai, probably my favorite band in the country along with Skyharbor, who have gained international acclaim in the progressive metal/"djent" scene. Finally, there's the Raghu Dixit project – it's not really my kind of music, but they did play Glastonbury this year, have performed on Later… with Jools Holland and are extremely talented.
Is there a pedal tone that you've been chasing and just haven't captured yet?
There are specific sounds I dream of bottling up in pedal format:
The guitar sounds on NIN's "Broken" – Trent Reznor is who I want to be when I grow up, and NIN is my favourite band of all time.

Neil Young's guitar on the "Dead Man" soundtrack
Tony Levin's and Justin Chancellor's bass sounds in single pedal format!
Sufjan Stevens' Fuzz Factory solo on "Impossible Soul"
Adrian Belew's sounds; "Elephant Talk" stands out.
The big one: Page's triple-tracked guitar on "Black Dog" in a pedal – one hell of an analogue challenge, replicating the sound of two 1176s in series in stompbox format…
What's your favorite part about the design/build process and what is your least favorite part?
Favourite part: Prototyping! It's always a pain and always rewarding to listen to the changes that component swaps create. I also find the PCB design process therapeutic.
Least favourite: Etching dual-sided PCBs – something ALWAYS went wrong – missing a via, bad toner transfers, lining up holes etc. Troubleshooting those boards at 4 a.m. was enough to make me sit down fully clothed in a shower with a bottle of disgusting cheap vodka and weep my soul out. Now, I just pay for professionally made PTH double-sided proto boards. It's expensive as shit, but life's too short.
A close second – soldering. A tip to all from personal experience: wear pants while soldering. Serious!
You mentioned in another interview I read that cooking is right up there with designing pedals and working out. Do you have a favorite recipe or dish that you do well?
My cooking tends to be pretty complex and experimental on the whole, but here's a dead simple recipe for a side. It's been a hit with my friends and family, and is almost a weekly staple at home since I first cooked it.
The fat content is very high – if you have health issues that limit your fat intake, this recipe may not be ideal for you.
Mushrooms in a White Butter, Garlic and Balsamic
Ingredients:
250g button mushrooms (Portobello mushrooms are another good choice here)
¼ cup fresh unsalted white butter – homemade preferred.
4-6 cloves of garlic, smashed and finely chopped
2 tbsp fresh thyme leaves*
¼ cup balsamic vinegar
Boil the mushrooms (or simply soak them in boiling water) for about 5 minutes. Drain them in a sieve.
Heat up a tablespoon of cooking oil in a wok on a high flame, add the mushrooms, then the garlic, and sauté rapidly.
Once the mushrooms are evenly coated, add the balsamic vinegar.
Constantly stirring, cook till the vinegar reduces to about half its original quantity.
Reduce the flame. Add the white butter and thyme and cook for about 5 minutes. The butter will clarify to some extent during the process.
Add freshly crushed pepper (optional) and salt to taste prior to serving.
*You can substitute thyme with other herbs – oregano and rosemary work well too.
Besides effects pedals, you build tube amplifiers as well. Is the design process for these two equipment types drastically different? How not or how so?
The process couldn't be more different.
It begins with the enclosure: Like 90% of the small boutique builders, I use standard diecast aluminum enclosures. With amps, I have to design them from scratch. As opposed to pedals, laying out an amplifier is an extremely lengthy process – after I'm done with the schematic, I spend a lot of time drawing out the circuit layouts for turret board to scale. Additional hardware, like switches, knobs and transformers need to be accounted for. Then there are concerns about things like electromagnetic interference from components and wiring. I essentially need to sketch out a complete A3 paper sketch of what the amp will look like – every hole, every wire, every screw – before I begin with any CAD drawings.
Electrical safety is a major issue with amps. Pedals run off voltages that couldn't threaten a newborn. Amps can flat out kill you. A lot of my graduate studies were devoted to electrical safety in medical devices, so I'm constantly worried about safety in case of a freak failure. This goes into the design process too.
Next: the sound – for *most* simpler pedals, the circuit board layout and component choice have a smaller influence on the final product than one would think (unless you're a complete moron laying out tracks in the most arbitrary manner, in which case I can't help you). At 350V+, however, the game changes altogether. I don't believe in "mojo" or the bullshit surrounding mojo components, but I'd be an idiot if I claimed that all capacitors sound the same at a 12A*7 plate at 250V+ and huge p-p signals.
Lastly: the cost involved in prototyping amps is very high, particularly in India, where you have to import pretty much everything, except perhaps resistors. I've actually imported wire and – no jokes – stainless steel screws. A pedal prototype, on the other hand, is very affordable in comparison.
You work with various artists for your illustrations. Want to do a shout out to some of those folks? Also, can you talk about your limited edition etching? Where do those designs come form?
Oh yes! They're all lovely people and extremely talented too.
Jessica Schrufer (NY, NY) did Chemical Burn – It was an absolute pleasure working with her; extremely communicative, friendly open to suggestions and critique and pretty quick to boot.
Tyler Bohm (Columbus, OH) is the genius behind Claustrophobia and Ozymandias and a gem of a person too – I saw the illustrations he made for his wife's poetry and knew immediately that I had to work with him on something. Claustrophobia is still my favorite pedal design to date, particularly when I etch it.
My friend Veda Adnani (Bombay, India) is the first Indian designer I've worked with. I was very taken by her very detailed line art and felt her style was perfect for my Baron Samedi brief.
I chemically etch the limited edition pedals myself. For regular production models, they're essentially the same design as the printed ones, except that they're modified for etching. For one-off pedals (usually for charity giveaways/fundraisers), I try to let the buyer decide what s/he wants on the pedal or offer a few different choices that I make/manipulate myself – I can't afford an external designer for a one-off/giveaway.
Are there any pedals out there from other manufacturers that you've played and thought, "I wish I'd made this?"
Way too many. Here's what comes to mind immediately:
Red Panda Labs – Raster (THE most intense pedal experience of my life)
Electro Harmonix – Superego, Small Stone, Big Muff, Electric Mistress… among others.
Strymon – Flint, BlueSky
Skychord – Cloudbuster delay
The classic circuit I keep going back to, however, is still the Big Muff Pi. From Siamese Dream to The Wall, whether it's guitar or bass, it's hard to fuck with the legacy of the Muff. EHX is a visionary company – their designs were way ahead of their time. They've earned the success they have today, through good times and disastrous ones.
Plus, there aren't too many CEOs who can say "When I was hanging out with my buddy Jimi Hendrix, who was playing my pedal…." with the nonchalance that Mike does. Kids: always be yourself, unless you can be Mike Matthews, in which case you should always be Mike Matthews.
What's coming up in the future of Animal Factory Pedals?
A general summary would probably be "It gets weirder" – I'm trying to break away from fuzz and gain pedals in general; as fun as they might be, there exist entire uncharted islands of strange and salacious sonic seductresses that I'm yet to bed.
The upcoming pedals will include: delay, reverb, a couple of dedicated bass drives, a filter and one weirdo. All with various degrees of perversion, of course.
Apart from that, between now and early 2016, you should see a non-effect pedal surprise or two. And that's all I have to say about that (for now).
We at Pedal Finder think that's just about enough.