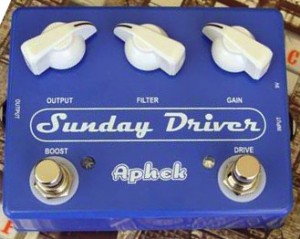 Came in contact with a new builder today called Aphek Guitar Effects (not to be confused with the builder Aphex – who makes the Exciter rack mount and pedal effects). I Had a hard time finding out in-depth information on these folks. They don't have a FB page. They do have a website, but it appears that most all the links are broken. The date on the website is from 2006, so it's hard to tell what happened or what's happening.
What we do know is that the owner/operator is Greg Dixon out of Australia. It looks like he made at least 3 pedals. Two of these pedals you can see from their website: The Sunday Driver Overdrive and the Peanut Butter Model T Overdrive. Both of these pedals provide a low-powered amp sound with a full range of response. They are true bypass, have a six way filter switch and gain control and output control. The mean foot switch either turns the pedal on or cranks it up a notch. It's hard to tell. You can either use a 9V or an adaptor with either pedal
Peanut Butter Model T: According to the website, the PBMT "offers a gritty, raw, vintage style breakup reminiscent of the low-powered amps from the fifties. It has a looser feel than the Sunday Driver, and a slightly warmer tone. The Model T retains the much revered sound of the original Peanut Butter Overdrive, adding a six position top end filter, and a mean switch." The mean foot switch increases the gain, giving you a liquid-like sustain. It's
a strange name for an overdrive and if anyone knows the reason for it – let us all know.
The Sunday Driver: Again, taken right from the website, the SD "offers a classic rock style breakup reminiscent of the late sixties high-powered amps. At low gain settings, you get that fantastic, just past clean power tube sounding break up. At maximum gain settings it produces the complexity and richness of your own amp turned right up. The six position filter switch rolls off top end at varying degrees. The Sunday Driver delivers a flatter response and tighter feel, in comparison to the Model T. The boost switch basically takes everything this pedal has to offer and adds depth to it. Because more is better when you have less.
What do you know about this pedal company? My hopes is that they are doing well enough that they just don't need social media or a functioning website to produce and distribute their wares, but I have my doubts. Did the world miss out on a slew of great effects from a now extinct builder or am I just bad at using the internet. Let us know what you do. And, if you own one of these pedals – leave a review.
Here are some demos: