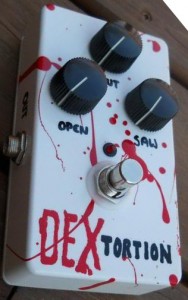 Benjamin Craig is an amp and pedal builder living in the small town of Nelspruit on the eastern border of South Africa. His one man company is called CraigAmps. I ran across this builder today while working on some other stuff and had to chuckle at what he filled out in the history section of his businesses FB page, "Started 2001, in Pietermaritzburg, in a reaction to being told that it would not be possible." I love that! Can there be any other motivator or any better reason to run down an idea other than to prove it can be done? In terms of amps and pedals, it's clear that Mr. Craig has succeeded – despite the warning of others.
Having started 14 years ago, CraigAmps has come a long way. In 2012, they went from only doing custom amps to producing a full line of production range amplifiers as well. Since we are here to talk about pedals and not about Amps (it's not called Amp Finder folks), I'm just going to leave this link to his site so you can learn more about the designs and sounds he's bringing forth in this arena: Visit CraigAmps
Onto his pedals. Mr. Craig started building pedals as a suggestion from a friend. It was clear that his amps were well worth purchasing, but he thought that it might be good to have smaller more affordable items to sell in-between his amp orders. So, why not try to make some affordable effects to offset the amp sales. The result of this is a diverse line of clones (with twists) and original pedals. Here they as taken from his site:
Dextortion: High Gain distortion pedal with huge sustain, Plenty gain on tap.
PsychoAnalysis: VintageR and Dextortion in one pedal. Both circuits cascading and acting as individual pedals.
ShoeSoul: A Mosfet boost that gives clarity to your tone, and unbogs your signal. Can pass low end so great for bass boost too.
TremoSoul: Ultra speeds tremolo with variable boost and ability to remove the trem-section from boost. Toggle to switch between square and triangle wave.
Toenail Clipper: A single opamp clipping circuit that is a overdrive on the verge of distortion. Cutting edgy tone like a cranked marshall, for leadwork.
Klassic Komp: Ross based compressor. 3-way toggle to control release time.
Sickfuzz: Bass fuzz pedal with huge lowend. Not for the faint hearted. Scares babies and old woman. Used with guitar, to get DOOM style tones.
Vintage G: A bufferless take on the tubescremer circuit. Very smooth and sustainy
Vintage R: More Open sounding and Crunchier than the Vintage G.
The bummer about this builder is I wasn't able to find any real great pictures of his pedals for the site. I'll reach out and see what we can get because from the pictures I can find, they have a great aesthetic. Also, according to his FB page, all the pedals are hand painted and baked. Nice touch.
Finally, I read a really great interview over at The Doughnut about Benjamin and CraigAmps. What's awesome about the interview is that it's done by a pure fan. The interview is long and engaging and touches on a lot of great topics. In that interview he has a few pictures and one of them is the guts of a few of Benjamin's pedals. Pretty amazing – neat, tidy and colorful. Could you ask for more?
Let us know what you know about CraigAmps. Leave reviews when appropriate!