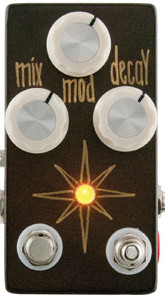 We've actually had Hungry Robot  in our Pedal Finder Effects Catalog for a while now.  An inspiring member added them about a year ago.  The man behind HR is Eric Junge. He's based out of Iowa from what I can find out on the internet. According to his website (it's a nice website by the way), "Hungry Robot Pedals was officially launched in 2012.  [He] had built a few pedals and thought [he] would take a stab at designing some original circuits." He also stats that his new direction is to focus on modulation based effects pedals. A new effect from this builder is actually why we are talking about Hungry Robot today!
Recently HR announced that they've built the Starlite. This is a funky reverb for one very important reason. Eric explains it like this:
The Starlite is the world's 1st modulated reverb with tap tempo controlled rate. The release of this pedal marks a giant leap forward in the world of time-based effects and will revolutionize how you use and experience reverb.
Sounds like Eric swung for the wall on this one and easily cleared it.
Ultimately, the Starlite is an offshoot of another pedal of his, the Stargazer. He played with the circuit, increasing the ambient capabilities resulting in a "more atmospheric, present reverb with the same self-oscillation capabilities." The tap tempo feature allows you to synchronize your reverb to the tempo you are playing (or not!) This effect gives you a whole new dimension to explore when creating soundscapes. Besides being a new toy for all those shoegazers out there, I foresee a huge variety of applications for other genres of music. What's more, is this pedal is coming in at under $200. Fun stuff.
Let's not forget though, that Hungry Robot has an entire line of pedals. The aforementioned Stargazer (a reverb that sounds organic and that sits well within a mix or recording, complete with a 'Sparkle' switch) along with the Moby Dick ( a tap tempo delay that pays homage to the analog and tape echoes of the past) and The Hungry Robot ( a low-gain overdrive that is designed specifically to give you more of what makes your tone unique). Unique pedals from a builder that 'went serious' a little over a year ago. This type of creativity and drive deserves some attention. So go ahead and check out their FB page and stay up to date on what they have going on in the near future.
As always, leave a pedal review at Pedal Finder and let us know what you think about their line. It's why we're here.
Here's a demo of the Starlite!