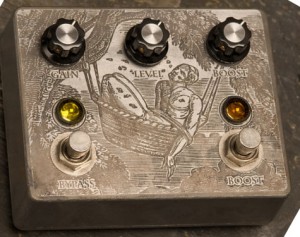 Out in Boston there is a guy building some wild, dirty tones. His name is Brad Macomber, "a guitar tech and effects pedal designer/builder by trade." His company is called Nerd Knuckle Effects.  I ran across his boxes while skimming through Etsy.  Although known as the domain of such items as the hand knitted hamster slipper or the baseball cap made out of tin cans, Etsy is also a great place for builders to set up shop and get their effects out into the world.
Nerd Knuckle has a line of 5 pedals currently for sale. It's a pretty great selection of dirt, distortion and fuzz, with a ABY thrown in for good measure. All of Brad's pedals come with a lifetime warranty against manufactures defects, which is pretty sweet, because you are not going to want to trade your box in for another. Each effect is hand etched, meaning that yours is going to look a little different than mine or theirs. I love etched boxes, the detail and effort that goes into the extravagance of it all just accentuates the builders personal love for what they do. Awesome inside and out.
Here's a run down for what Nerd Knuckle has in their store.
This is that ABY I was telling you about. This box is laid out to limit the amount of noise and disturbance you get when you have ground loops and phase discrepancies. Brad says this, "The Lip Splitter is a mightily buffered ABY box, with ground lift, over spec'd transformer isolation, and polarity flip on the "II" channel. Big ol' 8mm LEDs let you know which channel you're on and which you're switching back to when you come out of "III" or both mode."
The Ill Omen sounds dynamic and disturbing. Brad says this, "The Ill Omen is a diode clipper featuring symmetrical soft clipping and tastefully asymmetrical hard clipping with a wide range of gain settings, from clean to pretty messed up. Following that, we have lopsided a Bax tone stack that allows you to go from a tight drive, to full middy distorted tones, to gnarly treble boost. "
The world doesn't have enough martyrs anymore. Those who are willing to sacrifice themselves for the greater good. Here we have a "2-stage gain device: One with a variable gain, one with a fixed gain. Each gain stage is made up of a high gain silicon transistor driving a low gain NOS Russian germanium transistor. By using both types of transistors, the Martyr box gives you the direct, hard-edged articulation of silicon clipping, and the smooth, compressed sound of germanium clipping. With the first channel, you can go from a unique overdrive tone to a wild squishy fuzz. Kicking on the boost gives you a gain and volume boost that'll take you into feedback laden fuzz heaven."
The Baba Yaga is a Tone Bender with a twist that produces a similar buzzy, 60's tone. Brad, "Us[ed] the 3-knob version of the classic circuit as a starting point [and] modified it to use NOS low gain NPN Germanium transistors from Russia."
Brad's take on the '78 IC Big Muff.  This pedal is a twist on the IC Big Muff. The twists give the pedal more versatility. He explains it like this, "The addition of the CONTOUR control lets you flatten out the scoop of the original tone stack, allowing a healthy amount of low mids back into your signal. Between that and the TONE control, you've got a huge range of tonal choices. A few other changes in the circuit let what I like best about the pedal shine through."
Like I mentioned, these pedals tend towards the wild, nasty side, but they have beautiful exteriors crafted with care. What's better yet is that these pedals are geared towards guitar or bass! This is a builder worth checking out and we are excited to have them in the Pedal Finder Database. Now we just need all of you who beat us to the punch to let us know what you think of these pedals. Leave a review at Pedal Finder or just let us know in the comments what interaction you've had with the builder or his pedals.