Built to Spill rolled into our medium sized town of Missoula earlier this week. Surprisingly enough, they played a small venue which allowed everyone to get up close to the band as they belted out a bunch of hits as well as some new music from their latest album (sadly no Twin Falls). They delivered an impressive performance complete with a driving encore that ended in a 10 minute explosion of swirling guitars amidst a cacophony of bass and drums. It was the epic ending from a band that does epic endings well.
Built to Spill has had rotating members over the course of their career, but mostly a tight-knit crew that sort of drift in and out in different iterations. This night we found guitarists Brett Netson and Jim Roth flanking frontman Doug Martsch. These three did an amazing job of staying out of each others way all while recreating the swirling chaos found on so many recorded BTS songs. When they all unleashed their boards on the audience it was clear who you were listening to – no one else has those tones or melodies.
The other great part about small shows is you can try to snatch a few shots of the boards in question. It's hectic after a show as you can imagine, but over the next few days, I'll be releasing rundowns of the photos I got. Today we start with Brett Netson. His board might not be the most comely, but it absolutely produced a bucket load of BTS tone.
Take special note of the shiniest pedal on his board. It's a Tym Tatanka Signature Boost. A pedal he put his name behind in an effort to support the Buffalo Field Campaign. This is a quote from the Tym website, "Realize when you buy this pedal that money is going to the preservation of the last native herd of wild buffalo through the work of The Buffalo Field Campaign. It was built with care and competence  by one of us, not by some huge corpo factory. This will wake your simple vintage style circuit right the hell up. Play it loud and play it wild. For the Yellowstone bison. And because people like Tim are also a rare breed." Effects with a purpose is always a welcome sound. Here's his board:
Brett Netson's Pedalboard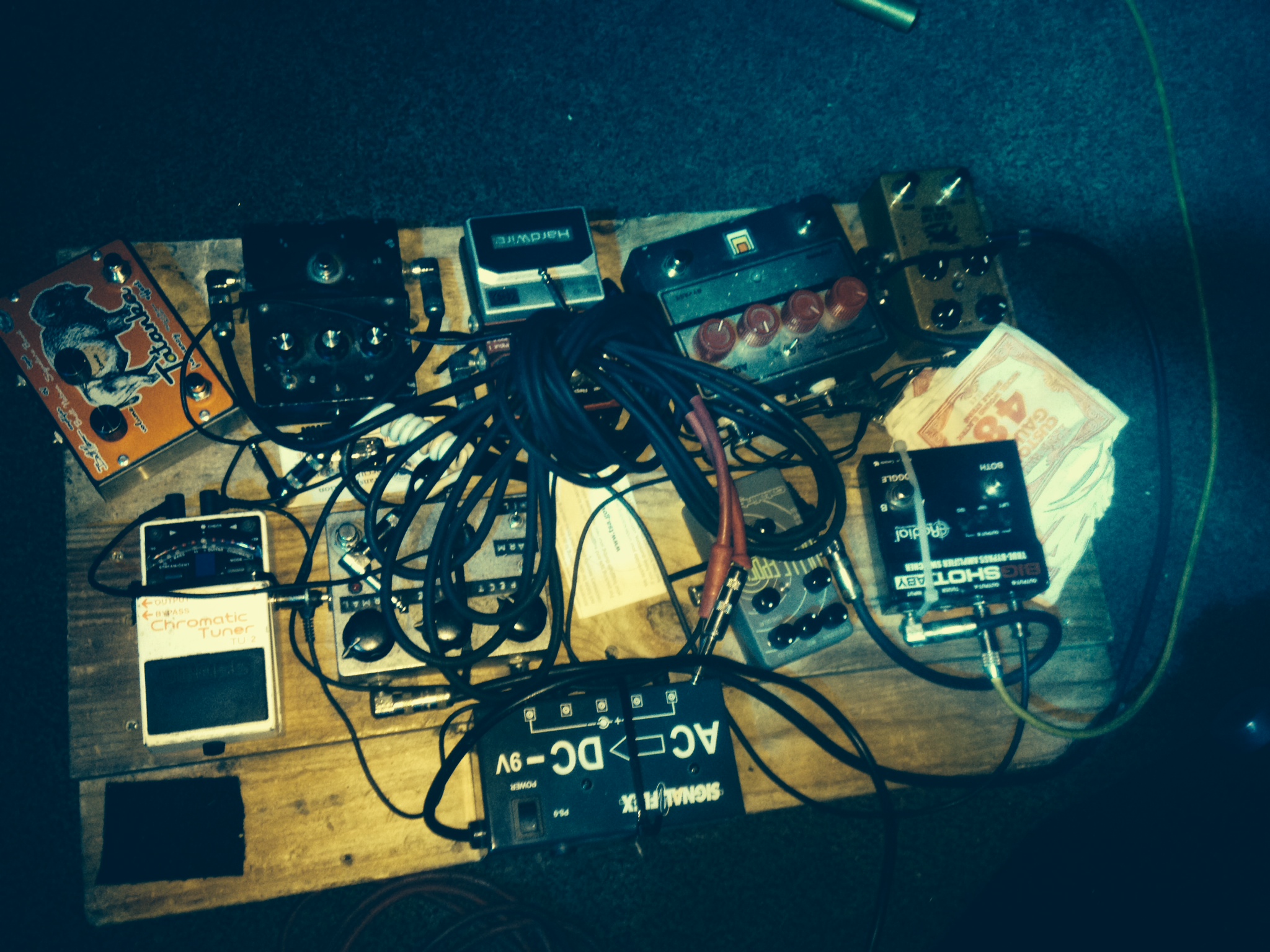 Starting top left:
DIY Pedal (switches between RAT circuit and L.A. Metal)
Endangered Audio AD4096 Delay
DIY Brass Master Circuit
Dunlop JH1 (not pictured)
So that's Brett's board. If you spot anything we couldn't identify, please let us know in the comments below. And stay tuned for Jim Roth's pedal board up next!