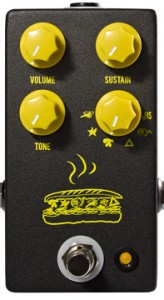 On the first of September, JHS dropped word about their new 'all-in-one' Big Muff tribute they are calling the Muffuletta. If you don't know, a muffuletta is both a type of round Sicilian sesame bread and a popular sandwich originating among Italian immigrants in New Orleans, using said bread. It's delicious and if you ever have a chance, you should get one. Much like the Muffuletta pedal which is both delicious and something you should get if you get the chance. And after seeing the video below, you will understand what I'm talking about.
I typically have mixed feelings about pedals that run a gambit of effects or try to do to much in one box. As they say, jack of all trades – master of none. For those who love their tone, being the master is really the only option. And, although you have a greater degree of options with multi-effect pedals, you are also at risk of losing specific tones altogether. It's a battle that I'm sure lots of you deal with on a daily basis. Total control versus choice and flexibility. There is no right answer, but by all means feel free to argue about it. After all, what's the Internet is for.
The video that Josh Scott did (owner of JHS) with Joel from Chicago Music exchange (below) does an amazing job of going through all the various Big Muff tones that the Muffuletta takes on. So I don't want take up your time by reiterating it step by step. In a nutshell, this compact stomp brings you 6 unique Big Muff tones (there have been over 30+ Big Muff models created over the last 1/2 century!)
From their site:
JHS – "2015" The JHS Muff is a JHS original take on the classic circuit. You will find this version more powerful, less compressed with a more haunting mid range. It is also the best for bass guitar.
73 Rams Head – "1973-1977 V2" The 73 Rams Head gets its name for the strange little elfin looking face that appears on the lower right corner of the pedal. Over the years people nicknamed this unit based on the fact that is looks somewhat like a lamb or animal. It is best known for having a scooped mid range, less gain and being overall darker. Famous users include David Gilmour (main Pink Floyd recordings), Ernie Isley (Eisly Brothers), and J. Mascis (Dinosaur Jr.)
The Triangle – "1969-1970 V1" The Triangle Muff gets its name from the triangle arrangement of the knobs on the original unit. It is best known for having more low-end response and being more articulate. Famous users include Santana, David Gilmour's Pete Cornish made pedal boards, John Lennon, Kevin Shields (My Bloody Valentine), and possibly Jimi Hendrix.
The Pi – "1977-1978 V3" The Pi Muff gets its name from the instantly recognizable red Pi symbol on the top. This is not to be confused with the later redesigned NYC version released much later in 2000. It is best known for a more aggressive sound. Famous users include Frank Zappa, Billy Corgan (Smashing Pumpkins), Jack White, The Edge (U2), Beck, and Pete Townsend (The Who).
The Russian – "1999-2009 V8" The Russian Muff gets its name from the "Made in Russia" text found on the back. It is best known for having less clarity and less low end. Famous users include Dan Auerbach (Black Keys), Chris Wolstenholme (Muse), and Robin Finck (Nine Inch Nails).
The Civil War – "1991-1993 V7" The Civil War Muff gets its name from the old style Civil War era font found on the enclosure as well as the navy and grey colors found on many. It is best known for having more mid range, brighter overall tone and less gain. Famous users include Thurston Moore (Sonic Youth), John Fogerty, Jeff Tweedy (Wilco), Mike Mills and Peter Buck (REM).
Enough of my blather! Take a look at this awesome new pedal and let us know what you think! Leave a review if you get one on your board!