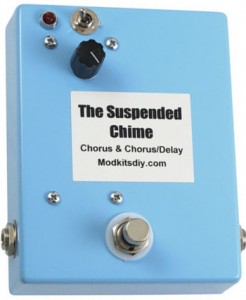 I've had a germanium Fuzz Face kit staring me down every time I walk into the office to get some work done. There it sits, un-built for months, but ready to go. I even have the enclosure painted. So why isn't it done? Truth be told, it's my first foray into building a circuit. Yes, I know fuzzes are easy. Yes, I know it won't take that much time and the reward will be huge when it's all done and I'm able to rock out to the fuzzy goodness of my (almost) own creation. But, it's still a little daunting.
Heating up the soldering iron for the first time and working on real components is both exciting and a little scary. Making sure the connections are correct and that the components are put on in the right way so the whole darn thing doesn't just fry on the first try is what's running through my mind mostly. I just want to make sure I take enough time to study it before getting started. The best part though, is that I'm even this far.
Back in the day's before DIY kits, you had to do a lot more research and digging before you could slap-dash a circuit together. Building from a kit and building from bulk components are two entirely different ideas. A DIY kit is a great first step for someone like me who understands just enough to ruin a good thing if given the opportunity. That's why I'm really excited to see MOD Kits DIY continuing to put out relevant and interesting kits like their new Suspended Chime effect.
The Suspended Chime pedal kit is the first multiprocessor kit offered by MOD Kits DIY. It has two effects chorus and chorus/delay. The suspended chime has just one knob that you use to blend the level of chorus effect. You can just dabble a little into your signal or crank it up for a full, lush tone. The pedal also has a selector switch that gives you access to 190 millisecond delay that will add depth and character. It's a great multipurpose idea that opens itself to a lot of mods outside the intended purpose – which is what any good DIY kit does – expand your understanding of the circuit underlying the effect.
This is from their website:
MOD Kits and Assemblies are designed to give novice and experienced musicians the opportunity to build or modify their own amps, effects pedals and guitars. All kits come with easy-to-follow instructions and use point-to-point wiring. All effect pedals and amplifiers come with a pre-drilled enclosure and all necessary parts are included. All you need to provide are hand tools, a soldering iron and solder. The effect pedal operates on a 9V battery; for a longer lasting option, a 9-volt adapter can be purchased separately.
If you've been thinking about jumping into some DIY building – jump on over to their site and see what they have to offer. It's inspiring. Now, if you'll excuse me, I have a pedal I need to build.