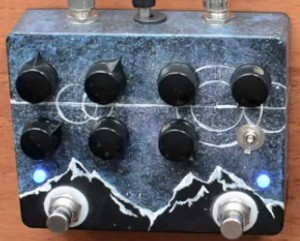 The folks behind Circuits From Deep Space have an avowed love of the sounds emerging from the classic 60's psychedelic sound. They love doom and stoner music as well and with that love comes a want to get dirty and loud. Hailing from Moscow Russia this individual or group has created one pedal that I could find information about. But, holy-cow, what a pedal it is.
The Star Eruption Fuzz is a pedal that combines modified circuits of the Pro Co Rat and the Russian Big Muff. Housed in a moderately sized enclosure this pedal has all the knobs you need to make each effect come alive. This allows you to dial up the Rat and the Muff individually or in unison for some seriously epic fuzz-tone-goodness. Like I said, there isn't a great deal about these folks online, but I did find this (translated) description on a Russian website. I kept some of Google's sloppy translation in because frankly I think it conveys the overall madness of this pedal.
[The Star Eruption Fuzz] combines the sound of well-known and beloved Rat effects and green Russian Big Muff. Rat pedal side has a very flexible configuration. You can smoothly change the level of overload in conjunction with a frequency filter that allows you to configure a well-balanced sound that will appeal to many musicians. [It has] a large stock gain pedal suitable for Low- and High-Gain.[Dial the knob] to position minimum and you can get a good [blues sound]. But that is not all! Party Muff !!! It can not be ignored. As mentioned earlier, it gathered all the strength, power and energy [of the]Green Russian Muff, [and will] react very sensitively to pickups, adding most of this, droplets or harmful, and vice versa … beneficial saturated fat in your game! Well, if you take into account that all written above – a small story about the pedal in a compact body, even the most inattentive reader could conclude that this pedal – universal Fuzz-Distortion effect, allowing an incredible amount of options to wind the sound!  And of course !!! The ability to share and Muff Rat! In this mode, you get unlimited amounts of fat, endless sustain and other bonuses! All sludge, doom, hardcore and other pleasures of life!
All sludge, doom, hardcore and other pleasures of life indeed. If you know more about Circuits From Deep Space and their Star Eruption Fuzz, please let us know. You can either leave a review of their Pedal on our site – or contact us directly. Here's a demo.