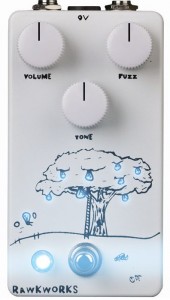 Sometimes I wonder how I go so long without running into a certain builder – especially when their aesthetic is so awesome it makes me want to open my wallet
immediately to purchase everything they've produced. I know aesthetics should be the last thing you consider when looking for pedals to complete your tone, but as every restaurant owner knows – we eat with our eyes! Today my fancy was caught by Rawkworks, the business moniker of Mike Skinner.
Two reason I like the aesthetic on these pedals: first, the graphics are simple, yet appealing. To me, this reflects the greater part of the stated mission  of Rawkworks illustrated by Mike when he writes, "The purpose behind Rawkworks is to blend rawk solid tones with rawk solid production values at a rawk bottom price." Keeping it simple and elegant while delivering you straight forward, solid tonal nirvana. You can't make a statement like that and then muddy up the exteriors of your boxes with wild graphics and over the top visuals. If it's zen on the outside – how different can the inside be?
The second reason is the glowing bits. My eyes might be deceiving me – and I don't think they are – but the 'fruit' in the tree on the Eliora Fuzz and the windows of the buildings in the Light Overdrive are back-lit by the LED. Such a small touch, but something that takes a bit of extra effort and patience. And so well worth it. Again, if the attention to detail is laid out well on the exterior, the inside must be a work of art.
Enough of the aesthetics, what are pedals they offer? Here is what Rawkwork has and what they say on their site:
Eliora Fuzz: The Eliora Fuzz is a musical wall of fuzz. Take your high gain tones from smooth to crushing with the gain control, mellow through biting with the tone control, and zero through whoa with the volume control. Thick and articulate at any position, roll the volume back to lull your audience into a comfortable place long enough to remind them that their faces have long ago pooled on the floor.

Light Overdrive: The Light Overdrive V2 pedals remain true to their predecessor's tone, while offering some new and improved sounds of its own. Light Overdrives are hand built to order.
Vista Buffer: Use your longest cables, keep your true bypass pedals, and preserve your high end content. Taken from the Light Overdrive and presented as a stand alone unit. Let your tone shine!
If you want to learn more about the technical side of their pedals (i.e. really nerdy stuff like the Eliora Fuzz uses audio grade Nichicon electolytic capacitors, box and poly film tone capacitors, Xicon 1% metal film resistors, and socketed integrated circuits) then you should truck on over to their site. If you want to leave a review of their pedals on Pedal Finder, then you should go there and do that! If you want to hear Lance Seymour (of Gear Talk) demo the Eliora – just watch below!