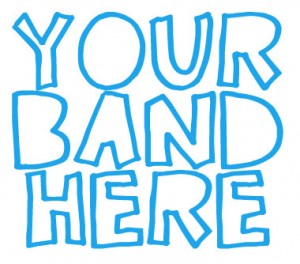 Gear, gear, gear. We love to talk about gear. New gear, old gear. Big gear, small gear. All the time gear! But, what good is gear in a vacuum? At the end of day if we don't see and hear this gear, then we might as well be living with Schrodinger's cat. The fact is, we don't just buy gear to look at (most of us) we buy gear to play. Especially with others. That's why Pedal Finder is going to start spending time posting about your band.
Right now we are looking for folks to submit information about their band. You might be a newly formed Shoegaze spinoff with one show under your belt, or you might be a regionally known blues group working throughout the Pacific Northwest. We want to hear from everyone. As often as permits, we will post a band showcase on our blog for all to see.
So what information are we looking for?
Obviously we want

pictures and descriptions of your pedals and board

– it's what we do. Yes, we'd also like to hear about your amps and your guitars, but at a minimum we want pictures of those boards!
Short description of your band including at a bare minimum; what town you hail from, the names and positions of your band-mates, how many years you've been together and some type of description to pigeon-hole your sound (outrageously convoluted descriptions appreciated). Please feel free to include any and all other information as you see fit.
Finally, links to website, social media, videos, soundcloud, etc. Anything you have on the net to show us what your band is all about.
Along with these three simple items, please include the name and email of your main contact person in case we have questions. Mail all submissions to Jerry@pedalfinder.com. Please put 'Band Showcase' along with your band name in the email subject line. That's it!
Super excited to learn about new music and the ways people are putting some of this gear to work. I'm sure others are excited as well. They just don't know it yet!
Until then…