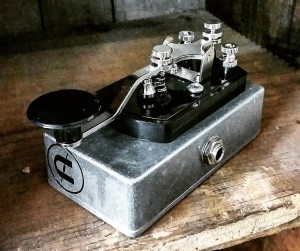 Every once in a while in the world of effects pedals you come across something just plain cool! A new take on an old idea that gets you excited all over again – like it's the first time. That's the case with CopperSound Pedals new Telegraph Stutter.
CopperSound Pedals out of Easton Massachusetts is owned/operated by Alex Guaraldi, who came up with the idea of using a telegraph key as the activator for the effect. I first caught a glimpse of the pedal on CopperSound's Instagram account and immediately contacted Alex to get more information. Since then, I'm seeing the pedal pop up all over the internet, including a short video with Juan Alderete over at Pedals and Effects.
This isn't CSP's first dive into the world of effects though and you can check out their site to see everything else they have to offer, including their first pedal – The Mustard Gas, a low-fi fuzz "capable of creating those olde tyme radio sounds." They also have a line that includes a boost, ABY's, dual taps, switches and perhaps our other favorite – a pedal flashlight for those low-light situations when you need to see your board.
Alex was nice enough to take some questions from us here at Pedal Finder. Here is what he had to say.
Tell us a little bit about the vision of the pedal.
At heart, the pedal is a standard killswitch. The connection is closed (on) until the key is pressed down and is opened (off or shunted to ground). Most pedal players are accustomed to using their feet for most effects pedals. The Telegraph Stutter is a hand controlled effect. We encourage players to place the pedal on top of their amp and interact with it. As most players know, your amp tends to feedback when you're aimed at it. With this device, you can chop up those crazy feedback tones and possibly establish a stronger bond with your amp while you're over there!
What was the inspiration? Do you know Morse code?
I have a great appreciation and fondness for olde machines and devices. I love the mechanics and the aesthetics. I'd say I lean towards an analog heart person. While in a local electronics shoppe, I noticed this straight key. I said to myself "can I build that into a pedal somehow?" After a little engineering, I had a working prototype. As for Morse code, I do not know more than the generally know SOS . . . – – – . . .
Did you run into any difficulties working with such a unique switch?
Different plastic types melt at different temperatures! The original place that we were purchasing the keys from had stopped carrying them, so we found an online supplier and ordered a batch. While we were assembling them onto the chassis, we noticed the plastic around some parts of the metal were melting due to the extreme heat of the iron. We had a batch of keys that were pretty much useless. I gave it some thought, and engineered a way to make the rest of them work. That was a frustrating night. Our current brand and supplier have changed for the better and we're excited about them.
Do the adjustments on the Telegraph Key actually work to help you set the responsiveness to the pedal. Or is it minimal when being used by your foot?
Yes. There are two adjustments on the top of the key. One is to adjust the spring tension, and the other is to adjust the height between the 2 contact points. The Telegraph Stutter is a hand controlled effect. We encourage players to place it on their amp last in their signal chain and use their hand. Technically speaking, your hand can move a heck of a lot faster and with greater control.
I noticed it's not on your site. Is this going to be a permanent pedal in CSP's line?
The pedal has not made it to the site yet due to orders, I know that may sound weird. After the prototype was finished and the production model was ready, I posted a picture of it on Instagram. 3 orders came in for one through emails. It was a pleasant surprise, seeing as it hadn't even made it to the website yet. I built the orders (1 standard finish and 2 custom colours) and posted pictures of them. After one of the custom colour pictures went online, orders started flooding in. I remember being in the warehouse of my day job and responding to customer email on my phone while working. It was a busy day. Encouraging, none the less. To this day, every batch of keys I order for pedals gets sold before I have any left to put on the website. We plan to have the Telegraph Stutter in production as long as players are interested in it. Hopefully that's a long time.
Any other aspects of the pedal you want us to know about?
The pedal is completely passive and requires no power. No power supply to be taken up. We're happy that people are as excited about this as much as we are!
Finally, Alex had this to say, "We didn't invent the killswitch, we just made it look cooler than ever."
We agree completely.
Don't forget we currently have a Giveaway going on for a Sunsine Audio Limited Edition Gold Harmonic Decoder.